Bis
A review of their album 'Plastique Nouveau'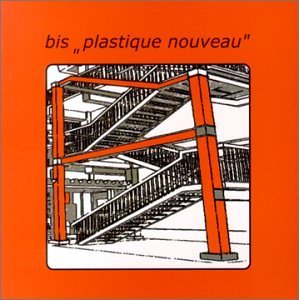 If you know anything about the 'Powerpuff Girls' then you are familiar with the four B's: Buttercup, Blossom, Bubbles and Bis. Yes, Glasgow's very own Bis has gained tremendous exposure (albeit among a rather young audience) having provided the main theme music to the popular kids television cartoon. And this exposure may not stop there as this new LP, 'Plastique Nouveau', is a perfect mix of synth-pop and hard-edged techno. And I for one can't stop listening to it.
Nine tracks long, it contains a variety of remixes from Detroit's Ectomorph and ADULT and Chicago's very own Tommie Sunshine. 'Protection (the nude mix)' begins the album with parts reminding me of Mr. Oizo's ,'Flat Beat'. The other version on this album mixed by Ectomorph is totally different and, to be honest, I can't decide which one I like best. As the album progresses as different mixing techniques reveal themselves, some old and some new, but all very mature and polished. Together they create something memorable. Instantly, you'll be hooked just as I was.
The album on a whole is definitely electronic, beat-driven and bold. A favourite of mine - 'Sound of Sleet' - has a sound reminiscent of Stereolab (although the lead singer, Amanda MacKinnon, sounds nothing like Stereolab's Laetitia Sadler). Other faves are the very catchy and melodic 'Don't Let the Rain Come Down' and 'Brainclouds'.
In summary it's hard for me to think that everyone won't like a little something from this album. And I only wish it were a bit longer.
Connie Hartmann

'Plastique Nouveau' is released on Spin Art Records on July 9 2002