Billy Joel
A review of the album 'The Ultimate Collection'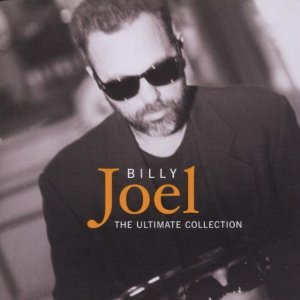 Billy Joel's 'Greatest Hits Volume I & II' is the 5th biggest selling album of all-time in America, so 'Volume III' had a hard act to follow. Now all three volumes have been gathered together into one collection that spans a recording career of 30 years since his debut album 'Cold Spring Harbour' in 1971. So with THAT cover version of 'Uptown Girl' on the airwaves Sony have released this, a double album featuring 36 of his most famous compositions.
From 'Piano Man' to 'An Innocent Man', Billy Joel's music has always been autobiographical. The former tells the tale of his piano playing days in bars in the mid - seventies. 'The Entertainer' documents the process of satisfying record company executives ("It was a beautiful song but it ran too long ...so they cut it down to 3:05") while 'The Downeaster Alexa' was written for his daughter Alexa.
One listen to this record and it's obvious why some of the more successful singers in the world would want to record these songs. Barry White ('Just The Way You Are'), Richard Marx ('Miami 2017') and Garth Brooks ('You May Be Right') are just a handful of names who have covered his songs over the years.
For classic ballad lovers there's 'She's Always A Woman', 'Baby Grand' (a duet with Ray Charles), 'She's Got A Way', 'Leave A Tender Moment Alone' and of course 'Just the Way You Are'. For perfect pop melody comes easy on 'Uptown Girl', 'My Life', 'It's Still Rock and Roll To Me',' The River of Dreams' and 'Tell Her About It'.
Some real gems are also included. The 7-minute Vietnam masterpiece 'Goodnight Saigon' (Ireland being the only country that this song was a hit in), 'Leningrad' (a reflection of the Cold War) and 'We Didn't Start The Fire' (an account of history covering 40 years of world events).
This collection fills an eight-year gap since the 'River of Dreams' album. Some new material may be long overdue but if you think Billy Joel has recently covered a Westlife tune or if some of these songs sound only vaguely familiar you should rectify the situation and add Billy Joel's name to your collection.
Mick Lynch