Betty Blowtorch
A review of their new album 'Are You Man Enough?'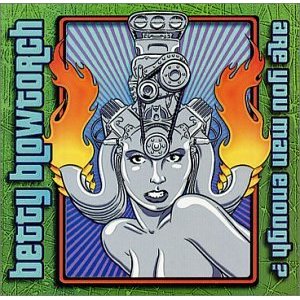 These four foul-mouthed babes from LA are making their mark with a raw and rough album named appropriately: "Are you man enough?". The all 'grrrrrrrrl' band is the epitome of hussy. On the album they hold nothing back as they tell you to do things like: "Shut up and F**k" and "Party Til you Puke".
Lead vocalist, Bianca Butthole is on a mission to "Destroy the myth you need a dick to rock!". And they do rock- better than some male bands I've heard. The result is a very addictive album that I really enjoyed. You could put them in the same category as L7 or Seven Year Bitch. Girl punk bands are fun and full of energy and this band definitely goes in that direction. Take a listen to the first track, "Hell on Wheels" it blatantly says..."We're in the band / all we want is a one night stand" Or better yet my favourite, track five, "I'm ugly and I don't know why", which tells a story of Bianca Butthole having her heart broken in second grade and how she dealt with it in the most unassuming way.
What blew my mind was the guest appearance by Vanilla Ice- yes, you heard me right, Vanilla Ice. The girl group was recording in the same studio as Ice and thought it would be funny to have him rap with them. He agreed and joined in on the third song, "Size Queen", with all his cockiness... no pun intended. "Size Queen" is not the best part of the album but it doesn't hurt it either. Hey, if you're going to get silly and crude why not use Vanilla Ice, right?
The whole album sticks together very well. Lots of roaring guitars and harsh screaming vocals not to mention the potty language that deserves a large vibrating "Parental Advisory!" warning label. It's in-your-face whether you like it or not.
Connie Hartmann

Betty Blowtorch's 'Are You Man Enough?' is released on Foodchain Records