The Avalanches
A review of the album 'Since I Left You'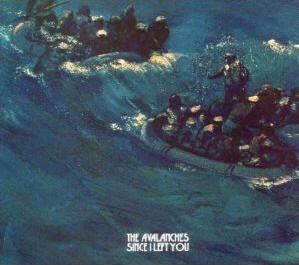 Somewhere in Australia, there is a copyright lawyer whose life is in ruins. His marriage is falling apart, he's losing his hair and he's heading for a stroke. And it's all because of The Avalanches.
'Since I Left You', the debut album from the Melbourne six-piece, is comprised of an incredible 900 different samples. It took the band over 2 years to put these samples together, and it will probably take their lawyer the rest of his life to sort out the royalties.
Four years after forming, The Avalanches are starting to hit the big time. Heavily influenced by Japanese punk outfits such as The Boredoms and Ultrabidet, the group started off making eccentric punk music, before swapping guitars for samplers and naming themselves after an obscure 1960s surf record 'Ski Surfing with the Avalanches'. The sextet (Gordon McQuilten, Darren Seltmann, Tony Diblasi, Robbie Chater, Dexter Fabay and James De La Cruz) released several EPs that earned them critical acclaim Down Under. They went on to remix the Manic Street Preachers and support both Beck and Public Enemy, whose Flava Flav altruistically fired their manager.
Now signed to XL Recordings, home of The Prodigy, Basement Jaxx and Badly Drawn Boy, the group have made their first LP - a collage of disco, psychedelia, hip-hop and obscure junk shop finds. The result is an outlandish world of their own, a soundscape encompassing '50s film scores, sugary '60s pop and various animal noises.
The title track starts proceedings, and its kitsch vocals and orchestral components will probably be familiar from just about every music-based TV and radio show of the last few weeks. The deep groove of 'Radio', the bright beats of 'Diners Only' and the '70s disco of 'Electricity' keeps the eclectic quotient high and brings us to 'Pablo's Cruise' - a one minute atmospheric interlude of creepy fog-horns and crackling vinyl.
There is a brilliant cut of chilled hip-hop in the shape of 'Frontier Psychiatrist'. The track's multi-layered appeal is due to stylish work by Avalanches DJ Dexter, who finished runner-up in the DMC mixing championships. Its underlying Western theme is enforced by gunshots, neighing horses, and Red Indian dialogue.
There is a strong travel theme to this album, something the group used to persuade Madonna that their use of the bassline from 'Holiday' was an appropriate musical device, and not just gratuitous. That sample pops up in 'Little Journey', another gem, while the penultimate track, 'Live At Dominoes', is a funky epic of such quality that Daft Punk may find themselves flipping Big Macs before long.
The Avalanches' cut 'n' paste approach isn't to everybody's taste, and 'Since I Left You' can take several listens to fully appreciate. The 18 tracks of psychedelic pop, disco grooves and film snips may be a patchwork quilt of musical oddities, but one that is seamless. Creative, playful and infectious, this will be the soundtrack to Summer 2001.
Stephen Murphy