Ash
A review of their 2001 album 'Free All Angels'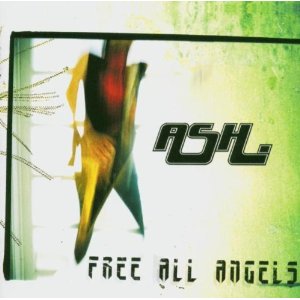 They've been out of the limelight for more than a year, a grand away from bankruptcy after a second album receiving a decidedly mixed reception. Yep, looks like it's make-or-break time for Ash. This one could swing either way, to the teenage genius of '1977' or perhaps to the troubled muse of 'Nu-Clear Sounds'. then again, it could even come back fighting with a sound much more developed and mature than anything the quartet have produced to date. And this is exactly what it does.

Lead-off single 'Shining Light' is undoubtedly the highlight of the album, featuring a soaring guitar solo which effortlessly showcases Wheeler's skills and is guaranteed to have even the most skeptical of listeners hooked. 'Pacific Palisades' is another gem, a frenzied two-minute tribute to the Beach Boys ('Brian Wilson in my head / Dennis Wilson, Sharon Tate / Dark Pacific Palisades / Yeah') with a chorus you'll be singing for days.

Songs such as 'Submission', 'Shark' and 'Nicole' prove that there's more to Ash than Tim Wheeler's songwriting prowess as any of these tunes by the other three members could hold their own just as easily as any Wheeler-penned track on this disc.

However, that's not to say that this LP is without its fault. 'Candy' in particular stands out as the weakest track that 'Free All Angels' has to offer. Perhaps, given the correct string arrangement, 'Candy' could be a truly good song, but as it stands, the Bacharach-sampling orchestra is more of a flamboyant overstatement that firmly underlines the fact that balladry such as this really is a hit-or-miss affair.

'Someday' is another ballad, but this time the results are by far more passable. The strings are used only to accent the melody, and any misgivings are quickly redeemed by yet another amazing guitar solo.

Indeed it's the solos which really shine here, mostly played by lead guitarist Charlotte Hatherly, though Wheeler does occasionally get a look in. The few low points of the CD are more than compensated, outweighed and outnumbered by tracks like 'Walking Barefoot' (a catchy does of energy and the ideal choice for album opener) and 'Sometimes' (yet another instant Ash classic). Use this LP as the soundtrack to your summer, then listen loud on dreary winter days and relive the memories.

If they can keep pumping out albums this good, then surely the superstardom hinted at on closer 'World Domination' ('Gimme gimme world domination / We are the new sensation') beckons. As in the case of 'Nu-Clear Sounds', it may perhaps be two steps forward, one step back.
Emma Davies

Check out a less positive review of 'Free All Angels' by another CLUAS writer.


To buy a copy of this album on Amazon just click here.