Angie Stone
A review of the album 'Black Diamond'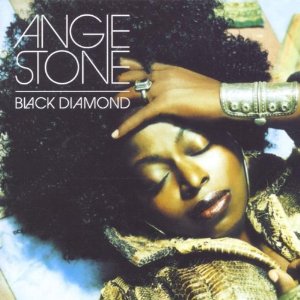 Once in a while there comes an artist who has it. Soul. Angie Stone is one such artist and "Black Diamond" is truly a work of art. Her sound is smooth, velvety and almost too delicious for words. It draws from a bygone age of Motown and classic soul. She hits the spot from opening track "Freedom" right until the final note.
"No More Rain (in this Cloud)" is a chilled, mellow number where Ms. Stone's harmonies glide over a sensuous string arrangement. There is no diva element in any of the songs, no vocal acrobatics, but Ms. Stone's presence is inescapable. She is equally at home with funky 70s inspired tracks such as "Green Grass Vapours" and "Love Junkie".
In fact, Ms Stone has mastered the art of reinterpreting classic soul for the 90s."Life Story" and the wonderful, uplifting "Visions" are testament to her gift of song.
There are no fillers on this record. All the songs stand up individually yet also blend together to create a soulful masterpiece. Ms. Stone clearly has star quality but must surely acknowledge her debt to the great masters such as Marvin Gaye.
The album comes to a close with the interlude "Black Diamonds and Blue Pearls" which is promptly followed by the stunning "Heaven Help". It's hard to believe that this is a bonus track. It's a timeless, beautiful song. If this track fails to move you, check to see if you still have a pulse.
If you like soul - if you have a soul - take a listen and rediscover music at its best.
Suneet Joseph


Angie Stone's 'Black Diamond' can be bought from Amazon at a special rate by clicking right here.