Alessandra Celletti
A review of her album 'Esoterik Satie'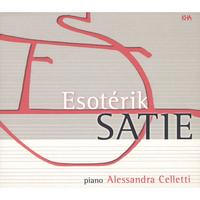 Review Snapshot:
To review a collection of classical music it sometimes feels as if you need to be a very experienced connoisseur, like being a wine-taster. But all the pomp that's grown up with classical music aside, and as we're talking about Satie, a rebel in musical terms, let's tell it like it is: this is a perfect measured collection of written sound that's delivered through the fingers of a rare artist who has within her that special ingredient needed to be able to release Satie's compositional ideas and make them illuminate the listener's ears. An esoterik talent.

The Cluas Verdict: 9 out of 10.

Full Review:
This is a wonderful gem, quite happened upon by chance, all thanks to that marvellous virtual labyrinth of music, myspace. Somehow knowing I'm a fan of Satie I received a friend request from Alessandra and on hearing the few delicious snippets featured on her page I immediately ordered a copy of this album, very cleverly entitled Esoterik Satie, and I've listened to nearly nothing else since.

It comprises a good number of the famous and the less notorious compositions of the sensational nineteenth century composer. Satie himself was a harbinger of musical progression, he proclaimed he was a 'phonometrician' (meaning "someone who measures and writes down sounds"), as opposed to a musician; he was the audible accompaniment to the modern movements in art and literature and those movements' phonic equivalent, and the minimalism and mood-enhancing melody he incorporated into his works has given him the crown of being the forefather of modern ambient music.

The way in which Celletti interprets and represents the tunes on her sole piano is astonishing; perfectly paced with a beautiful use of dynamics and ordered all together so well it delivers a sensation of euphoria as 'Petite Ouverture - Danser' comes to an end.

This is the perfect album to befit a night of candlelight and wine-drinking with a partner, the soft timbre of the piano (Satie sometimes used what's come to be known as 'prepared piano' in his pieces, a system whereby he lay paper strips on piano strings to create a mechanical sound; John Cage later took this up and it's notably reproduced in the piano tracks on Aphex Twin's Drukqs) is so indelibly romantic, haunting and idyllic that it lets you escape into another world not as busy as ours, not as terrifying, but where everything seems tranquil and holy; it's hallowing music.

The subtle transitions from one variation to another, first noted in the small changes between 'Pieces Froides, Danses de Travers no. 1' and 'Pieces Froides, Danses de Travers no. 2' make for a spine-tingling feeling that grabs a hold of your soul and slowly warms and caresses it, and there's always that odd blue note in there somewhere that surprises and tickles you with a little fear, with a little wink. The songs' structures invoke a huge appreciation of Satie's unequivocal genius.

The body of the six Gnossiennes that follow are greatly evocative; they're a sumptuous collection of variations that encounter such transformations yet essentially remain as one esoteric whole, eminently powerful when that little string of notes jumps out almost unexpectedly in the first and terrifically relaxing and soothing in the bass intonation that runs solemnly through throughout. There's the 'Pieces Froides, Airs a Faire' suite, the third of which seems to take Tchaikovsky's 'Dance of the Reeds' from The Nutcracker and grinds into an experimental shape the likes of which had not until that time been imagined. And the 'Gymnopédies', the sweet 'Gymnopédies', everybody knows them, the first at least, and Alessandra Celletti here expounds them with a supple energy, better than Nicholas York's rendering but reminiscent of his beautiful articulation of keys displayed in his playing of Claude Debussy works. From bringing in the 'Sports et Divertissements' in the middle to the sheer audacity 'Sarabande' and 'Ogive' at the end this incredibly well put together album is a triumph start to finish.