The Wayward
Listen to their song 'Jokers and Wine'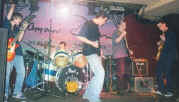 "Well a young man ain't got nothing in the world these days". Twelve words. If ever the very existence of The Wayward is to be explained, or justified, then the lyrics of Mose Allison's classic 'Young Man Blues' need only be repeated. The Wayward formed in 1998, with the original line-up changing significantly within a matter of months to form the current Who / Rory Gallagher / Verve inspired combination which drags itself from rehearsal to rehearsal and gig after gig on a regular basis. Inspiration from and admiration for artists, ranges not only from those mentioned above but also includes such diverse figures as the Small Faces, The Sex Pistols, Stone Roses and Led Zeppelin amongst others.
The Wayward are:


Stephen Kelch - Voice


Mark Deasy - Guitars, Effects


Ciaran Burke - Rhythm Guitars


Stephen Deasy - Bass


Adam Deering - Drums
Contact: thewayward@hotmail.com
Options to Download the Song
File Format
Download link
File Size
Approx download time (56k modem)
MP3
Download here!
3.4 MB
9 minutes
Windows Media
Download here!
1 MB
2.5 minutes

Note: If you have trouble downloading, 'right-click' the download link above and choose 'Save Target As' from the menu (in Netscape choose 'Save Link As')
Options to Stream the Song
| | | |
| --- | --- | --- |
| File Format | Streaming link | Notes for 56k modem users |
| MP3 | Listen now! | Not recommended for 56k (or slower) modems |
| Windows Media | Listen now! | Recommended option for 56k modems |

Note: Allow us to state the obvious but to listen to the songs on your computer you'll need to have a PC that has a soundcard and speakers (or headphones). The PC will also need to have a Media Player installed. If you don't have a media player you can download one - for free - from Microsoft.


Not sure what to do? Hit the button below for answers to FAQs (Frequently Asked Questions)