Tribal Herb
Download their song 'Funkyside'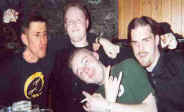 Tribal Herb are a Dublin five piece band who have been together for six years. In that time they have built up a reputation on the live circuit as an emphatic zappa-esque funk band. Playing everything from jazz to rock to funk to cartoon music, they aim to bring their high octane stage show to the masses. All members are musically proficient on three to four instruments each and all have a background in session work. In 1994 at the tender age of sixteen they won the Panasonic Soundblast Awards in Dublin and went on to play the grand final in London's 'Clapham Grand', hosted by none other than Jools Holland and Bob Geldof. Since then they have played around rural Ireland , England and San Francisco to good reaction. After a 6 month break they are back and unleashing their music on an unsuspecting public.
Options to Download the Song
File Format
Download link
File Size
Approx download time (56k modem)
MP3
Download now!
1.2 MB
3 minutes
Windows Media
Download now!
0.6 MB
1.5 minutes

Note: If you have trouble downloading, 'right-click' the download link above and choose 'Save Target As' from the menu (in Netscape choose 'Save Link As')
Options to Stream the Song
| | | |
| --- | --- | --- |
| File Format | Streaming link | Notes for 56k modem users |
| MP3 | Listen now! | Not recommended for 56k (or slower) modems |
| Windows Media | Listen now! | Recommended option for 56k modems |

Note: Allow us to state the obvious but to listen to the songs on your computer you'll need to have a PC that has a soundcard and speakers (or headphones). The PC will also need to have a Media Player installed. If you don't have a media player you can download one - for free - from Microsoft.


Not sure what to do? Hit the button below for answers to FAQs (Frequently Asked Questions)