The Keds
Listen to their song 'The Jury'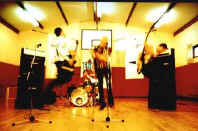 Hailing from Dundalk The Keds have been slowly been building their profile and reputation with a steady stream of no mess, punked-up gigs. You've probably caught them somewhere along the way - maybe on Phantom FM, on RTE TV's Fish programme, at any one of their many concerts up and down the country (which included a slot at last year's Witnness festival). If you haven't had the chance there's no excuses cuz right below you can download their single 'The Jury' for free. And don't forget to catch their set at this year's Witnness Festival. Yeah catch 'em while you can as come September the keds are off to New York for the CMJ Music Marathon before relocating themselves to LA where the word is they will write the final chapter in their plan of nothing less than, eh, world domination. Visit their website www.fly.to/thekeds for more info on things kedsian.
Options to Download the Song
File Format
Download link
File Size
Approx download time (56k modem)
MP3
Download here!
1.7 MB
5 minutes
Windows Media
Download here!
0.9 MB
2.5 minutes

Note: If you have trouble downloading, 'right-click' the download link above and choose 'Save Target As' from the menu (in Netscape choose 'Save Link As')
Options to Stream the Song
| | | |
| --- | --- | --- |
| File Format | Streaming link | Notes for 56k modem users |
| MP3 | Listen now! | Not recommended for 56k (or slower) modems |
| Windows Media | Listen now! | Recommended option for 56k modems |

Note: Allow us to state the obvious but to listen to the songs on your computer you'll need to have a PC that has a soundcard and speakers (or headphones). The PC will also need to have a Media Player installed. If you don't have a media player you can download one - for free - from Microsoft.


Not sure what to do? Hit the button below for answers to FAQs (Frequently Asked Questions)