Speedman
Listen to their song 'Lovelost'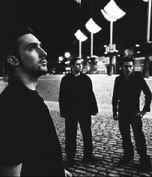 A restless man in his early 20s was being driven to dementia by a constant mindplay of catchy riffs and hooks. Advised by a psychotherapist to either go under heavy medication or form a band, he chose the latter. Thus Speedman was born. In late 2000, three-piece indie pop/rock act Speedman was formed by brothers Paul (vocals & guitar) and Derek Lynch (drums) with old-time pal Stuart Doherty (bass). The track featured here - 'Lovelost' - was recorded in March 2001 as part of a their first demo, a three-track affair featuring. Spliced with tasty hooks, meaty guitars, and a cavern of melody, Speedman tread new ground between British introspection and US rock sensibiliites. And with a ferocious and intense live show quickly gaining reputation, Speedman are a band not to be dismissed.
Options to Download the Song
File Format
Download link
File Size
Approx download time (56k modem)
MP3
Download here!
1.7 MB
5 minutes
Windows Media
Download here!
0.9 MB
2.5 minutes

Note: If you have trouble downloading, 'right-click' the download link above and choose 'Save Target As' from the menu (in Netscape choose 'Save Link As')
Options to Stream the Song
| | | |
| --- | --- | --- |
| File Format | Streaming link | Notes for 56k modem users |
| MP3 | Listen now! | Not recommended for 56k (or slower) modems |
| Windows Media | Listen now! | Recommended option for 56k modems |

Note: Allow us to state the obvious but to listen to the songs on your computer you'll need to have a PC that has a soundcard and speakers (or headphones). The PC will also need to have a Media Player installed. If you don't have a media player you can download one - for free - from Microsoft.


Not sure what to do? Hit the button below for answers to FAQs (Frequently Asked Questions)