Someday
Listen to their song 'Rooftops in the rain'
"The attractive female voice has an expressive warmth. Some neat bass playing, thoughtful guitar..." Jackie Hayden, Hot Press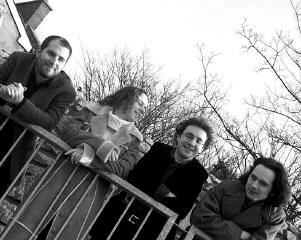 Someday have been performing their intelligent blend of mellow rock and moody female vocals around Ireland since early 2001. Although their expanded line-up now consists of Hugh Denman on drums, David O'Brien on acoustic guitar and vocals, Danny Simms on bass and vocals and Kathryn Williams on electric guitar, piano and lead vocals.
In their home base of Dublin they've played headline shows in venues such as Eamonn Dorans, the Isaac Butt and Voodoo, as well as playing acoustic sets in the Norseman, Viva and the Ha'penny Inn not to mention performances in TCD and DCU.
Insistent on being responsible for all aspects of their music, Someday produce and promote all of their own material, as well as designing their own artwork, building their own website (www.abandcalledsomeday.com) and creating their own videos.
Someday have recently recorded their first studio single, 'Dedicated' and the Dublin launch will be in the Temple Bar Music Centre on the 19th of March 2003, followed by a tour of Ireland with launches in Cork and Galway.
Options to Download the Song
File Format
Download link
File Size
Approx download time (56k modem)
MP3
Download here!
4 MB
10 minutes
Windows Media
Download here!
0.9 MB
2.5 minutes

Note: If you have trouble downloading, 'right-click' the download link above and choose 'Save Target As' from the menu (in Netscape choose 'Save Link As')
Options to Stream the Song
| | | |
| --- | --- | --- |
| File Format | Streaming link | Notes for 56k modem users |
| MP3 | Listen now! | Not recommended for 56k (or slower) modems |
| Windows Media | Listen now! | Recommended option for 56k modems |
Check out the Top 20 second hand indie albums selling on Amazon

Note: Allow us to state the obvious but to listen to the songs on your computer you'll need to have a PC that has a soundcard and speakers (or headphones). The PC will also need to have a Media Player installed. If you don't have a media player you can download one - for free - from Microsoft.


Not sure what to do? Hit the button below for answers to FAQs (Frequently Asked Questions)