Operation Sea Saw
Listen to their song 'Ariel'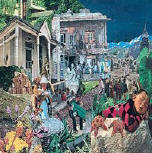 Operation Sea Saw came to life in June 1999. They started off experimenting with just keyboards and effects units, and then incorporated acoustic, electric and bass guitars. By May 2000, they had a CD and released it themselves under the title "11/2" (the track featured here is the opening track on the album). The CD is home to over forty minutes of very dreamy music on it, and people seem to listen to it when they are stoned or going to bed. One thing for sure it's not really disco material. It's now 2002 and they have just finished making a video (as you can see, they are not ones to be rushed) and plan another soon. More music too.
Operation Sea Saw are:


Dawn Copley: Born in England, brought up in Australia, and has lived on Irish shores since 1993. She is the founding member of Operation Sea Saw and plays all the keyboards. She now works in Dublin as a carer. (On an interesting musical note, her Father wrote the famous song "I fought the Law but the Law won" while in prison in England in the 60s. He sold the rights to it and never received the recognition he deserved).


Raymond Beggan: Born and lives in Dublin. He is the guitarist and producer of Operation Sea Saw. He has worked with a number of Dublin based musicians, and produced the well received Pete Courtney album "One of these Kids" in 2001. He has also made several music videos and is due to release an album of his own songs later in 2002.
For more info on Operation Sea Saw visit their website www.operationseasaw.com
Options to Download the Song
File Format
Download link
File Size
Approx download time (56k modem)
MP3
Download here!
2.7 MB
7 minutes
Windows Media
Download here!
1.4 MB
3.5 minutes

Note: If you have trouble downloading, 'right-click' the download link above and choose 'Save Target As' from the menu (in Netscape choose 'Save Link As')
Options to Stream the Song
| | | |
| --- | --- | --- |
| File Format | Streaming link | Notes for 56k modem users |
| MP3 | Listen now! | Not recommended for 56k (or slower) modems |
| Windows Media | Listen now! | Recommended option for 56k modems |
Check out the Top 20 second hand indie albums selling on Amazon

Note: Allow us to state the obvious but to listen to the songs on your computer you'll need to have a PC that has a soundcard and speakers (or headphones). The PC will also need to have a Media Player installed. If you don't have a media player you can download one - for free - from Microsoft.


Not sure what to do? Hit the button below for answers to FAQs (Frequently Asked Questions)