My Brother Woody
Listen to his song 'Serotonin Girl'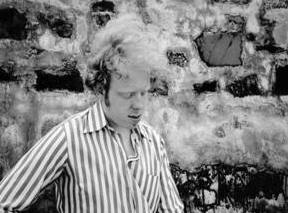 My Brother Woody is the creation of 24 year old Irish songwriter and multi-instrumentalist Michael Cleare. Michael has played extensively around Ireland, sharing the bill with the likes of Mundy, Turn, Marc Carroll, the Chalets, Roesy and Colm Quearney, receiving airplay on Today FM (Ray Darcy show), 2fm (Dan Hegarty show) and a number of Dublin based radio stations.

Having spent a year writing and recording in San Francisco, he returned to Ireland to put the finishing touches to his debut e.p (from which the MP3 'Seratonin Girl' is taken from). The songs were recorded in various bedrooms between San Francisco and Offaly on an 8-track machine.

The songs on My Brother Woody are hook-laden and harmony-driven, full of warm, infectious melodies, recalling the sound and style of legendary American bands such as the Beach Boys and Big Star, as well as more modern purveyors of good vibrations like Teenage Fanclub.

There's a sweet, innocent, wistful quality to the music. A breath of fresh air - like fellow West Coast pop enthusiasts the Thrills - into a sometimes overly earnest and introspective Irish songwriter scene.

My Brother Woody was voted 5th most outstanding new artist on the Irish scene in the cluas.com 2003 readers' poll.
Options to Download the Song
File Format
Download link
File Size
Approx download time (56k modem)
MP3
Download here!
1.8 MB
5 minutes
Windows Media
Download here!
1.4 MB
4 minutes

Note: If you have trouble downloading, 'right-click' the download link above and choose 'Save Target As' from the menu (in Netscape choose 'Save Link As')
Options to Stream the Song
| | | |
| --- | --- | --- |
| File Format | Streaming link | Notes for 56k modem users |
| MP3 | Listen now! | Not recommended for 56k (or slower) modems |
| Windows Media | Listen now! | Recommended option for 56k modems |
Check out the Top 20 second hand indie albums selling on Amazon

Note: Allow us to state the obvious but to listen to the songs on your computer you'll need to have a PC that has a soundcard and speakers (or headphones). The PC will also need to have a Media Player installed. If you don't have a media player you can download one - for free - from Microsoft.


Not sure what to do? Hit the button below for answers to FAQs (Frequently Asked Questions)