Modesty
Listen to their song 'Truth or Consequence'
Modesty are a 5-piece -a s yet unsigned - group from Dublin doing the gig-around-the-capital thing and unleashing their own individual brand of guitar-based music on the unsuspecting populous. They've been rehearsing/gigging for over a year now and have pieced together a veritable tour de force of a catalogue of 40 original songs.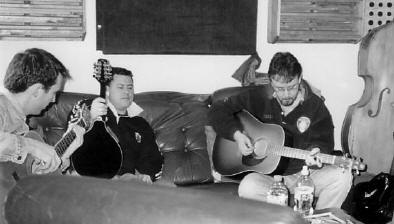 The band is a re-forming of three of the members of Modesty Blaze - a pop-rock outfit on the Dublin scene of the mid-90s (Paul, Mark & Fergal) with the addition of Declan on vocals and Gary on guitars. The end result is harder, louder and well, listen to the demo!
Already the band have released a 13-song demo cd and their website, www.modestymusic.com has been set up with the aim of keeping punters in the picture with news and reviews of the band and assorted other topics such as the influence of Kurt Loder on Spaghetti Westerns. See the website for details of gigs.
Modesty are:



Dec Mulligan: vocals


Mark Whelan: drums, percussion


Paul Mulligan: guitars, keyboards, backing vocals


Fergal Dunne: bass guitar


Gary Branigan: guitars, backing vocals
Options to Download the Song
File Format
Download link
File Size
Approx download time (56k modem)
MP3
Download here!
2.4 MB
6 minutes
Windows Media
Download here!
1.8 MB
4 minutes

Note: If you have trouble downloading, 'right-click' the download link above and choose 'Save Target As' from the menu (in Netscape choose 'Save Link As')
Options to Stream the Song
| | | |
| --- | --- | --- |
| File Format | Streaming link | Notes for 56k modem users |
| MP3 | Listen now! | Not recommended for 56k (or slower) modems |
| Windows Media | Listen now! | Recommended option for 56k modems |
Check out the Top 20 second hand indie albums selling on Amazon

Note: Allow us to state the obvious but to listen to the songs on your computer you'll need to have a PC that has a soundcard and speakers (or headphones). The PC will also need to have a Media Player installed. If you don't have a media player you can download one - for free - from Microsoft.


Not sure what to do? Hit the button below for answers to FAQs (Frequently Asked Questions)