Gramophone
'Fairweather Friend'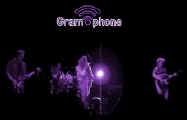 Fresh from recording their debut album in Munich, Gramophone have returned to their native stomping ground (uh, that'll be Ireland) to showcase their material. Their music - although guitar-rock - comes complete with generous strains of pop, country and soul. During their brief sojourn on the continent, the band played a number of high-profile gigs, including sets at the World Music Awards celebrations, the Montreaux Jazz festival and at the Jordan team party during the Monaco Grand Prix. The track featured here - 'Fair weather friend' - is the first single to be taken from the band's forthcoming debut album. Check it out. Gramophone's debut album is scheduled for release in February 2001. Lookout for Gramophone at a venue near you in the lead up to its release.
Options to Download the Song
File Format
Download link
File Size
Approx download time (56k modem)
MP3
Download here!
1.9 MB
5 minutes
Windows Media
Download here!
1 MB
2.5 minutes

Note: If you have trouble downloading, 'right-click' the download link above and choose 'Save Target As' from the menu (in Netscape choose 'Save Link As')
Options to Stream the Song
| | | |
| --- | --- | --- |
| File Format | Streaming link | Notes for 56k modem users |
| MP3 | Listen now! | Not recommended for 56k (or slower) modems |
| Windows Media | Listen now! | Recommended option for 56k modems |

Note: Allow us to state the obvious but to listen to the songs on your computer you'll need to have a PC that has a soundcard and speakers (or headphones). The PC will also need to have a Media Player installed. If you don't have a media player you can download one - for free - from Microsoft.


Not sure what to do? Hit the button below for answers to FAQs (Frequently Asked Questions)