Evolve
Download their song 'Twenty One'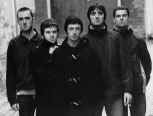 Hailing from Tallaght, Evolve were formed two years ago and lay claim to influences that include Bob Dylan, Brian Wilson, John Lennon, Neil Young, Rory Gallagher, Pete Townshend and Kurt Cobain. Gigging around Dublin you can regularly see them play the track featured here 'Twenty One' and a fistful of other original tunes. Evolve are:

Colin Brennan (songwriter / guitarist)


Danny Paxton (drums)


Derick O'Neill (bass)


Colm Jolly (singer)


Richard Jolly (rhythm guitarist)
Contact Evolve at justadd_water@yahoo.com
Options to Download the Song
File Format
Download link
File Size
Approx download time (56k modem)
MP3
Download now!
2.6 MB
7 minutes
Windows Media
Download now!
1.4 MB
4 minutes

Note: If you have trouble downloading, 'right-click' the download link above and choose 'Save Target As' from the menu (in Netscape choose 'Save Link As')
Options to Stream the Song
| | | |
| --- | --- | --- |
| File Format | Streaming link | Notes for 56k modem users |
| MP3 | Listen now! | Not recommended for 56k (or slower) modems |
| Windows Media | Listen now! | Recommended option for 56k modems |

Note: Allow us to state the obvious but to listen to the songs on your computer you'll need to have a PC that has a soundcard and speakers (or headphones). The PC will also need to have a Media Player installed. If you don't have a media player you can download one - for free - from Microsoft.


Not sure what to do? Hit the button below for answers to FAQs (Frequently Asked Questions)