This article was first published
on CLUAS in February 2007
Beijing Beat: Dive Bar D-22
Beijing's most avant-garde rock club, D-22...
Corporate types and rock good guys Charles Saliba and Michael Pettis talk give Chinese rock a stage...
---
Mark Godfrey, a CLUAS writer since 2002, is now based in China from where he files the 'Beijing Beat' column

"We're complete whores, anything that brings money or attention to our artists we'll do," says Michael Petis, co-proprietor of Beijing's most avant-garde rock club, D-22. Opened by childhood friends disillusioned with lives on Wall Street, the D-22's opening date - May 1st 2006 - was certainly auspicious for what its owners describe as "one of the only Communist organization in China!" Pettis, a tanned, middle-aged American, spent 15 years on Wall Street before relocating to Beijing to teach finance at Peking University. At night he rocks out with financial technology consultant Charles Saliba at nearby D-22, chatting and swapping CDs with Chinese punks.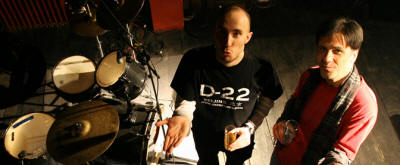 D-22 only allows original music. "Cover bands can go to hotels!" says Saliba. Light on decor and heavy on atmosphere, D-22 is a one-up, one-down dive bar with red walls and a large pull-down screen for regular film shows. The two take business visitors away from the bar din into a draughty upstairs room. A Briton by birth and Spaniard by upbringing, Saliba runs the place with a sole waiter. True to Communist ideals, the rest of the staff are volunteers. "Bands help us do translations, friends help us out," says Saliba.

There's plenty of foreign help. Two homemade magazines on the bar top titled "Mimosa and "8 Inches of Arsehole" chronicle local and Asian punk bands and labels. "They were put together by a guy who helps us with booking," says Saliba. "He used to live in Korea." The club's sound system is maintained by an American amateur "crazy about sound," explains Saliba. "He brought a lot of stuff from the US".

Before coming to China the two had wanted to open another New York club. A short-lived club run by Pettis in New York's East Village in the 1980s helped launch the career of grunge pioneers Sonic Youth. Taken aback by the talent they found in Beijing, the two transplanted the idea to the Chinese capital. "I had low expectations when I was coming out but then I saw there's a lot of talent." The first show Saliba saw in Beijing was by punk group Hang On the Box, an early house favourite at D-22. "I was impressed, I thought "wow, these girls are cool". There was a mixture of bands in there. I was expecting cover bands. The Asian music you hear in States is very sweet, commercial pulp crap. You don't get much of the underground scene when you're away. So I thought wow there is a scene here or at least there is a band here." Pettis took him to see Subs, a local punk group with several European tours to their credit.

Saliba was convinced by the music. "But the venues were crummy," he recalls. "We kept going to shows in Beijing and kept having the problem where we said "wow that band's really good but there was always a problem with the club's location or how they served drink". So he gave up an English teaching job to scout out a venue. After much searching the two rented a bar, the Floating Isle, in the northerly student neighbourhood of Wudoukou. The location was a no-brainer for both. "We were sure we wanted to be in Wudoukou," says Saliba. "In Sanlitun [bar street] there are bigger crowds but we don't feel we need to open another bar for foreigners. We believe Beijing has enough talent to be music capital of Asia but it really needs a push. We wanted to make a difference in scene."

D-22 was never about making money. "We're not good businessmen? We're still losing money". The two raised money with friends. "It's very difficult for musicians to get support and most of clubs are really good people but need to pay rent and are constrained in what they do. We can afford to lose money for a few years. Hopefully after a while we will make some..". Beijing, says Pettis, needs a scene of its own, like New York or Chicago. "When you are in New York you have a sense you are in centre and not looking over your shoulder for approval. But when you're on the periphery it's much more difficult. Chinese musicians and audience are saying if you sound like a foreign band we like you and if not you're full of shit. And that kills the scene."

Yet acceptance in foreign music media and music labels lends Chinese rock confidence, and acceptance among local audiences. "The Chinese audience will say if this guys says its good then maybe it's not so bad? Guys with a lot of cred abroad are coming here and saying this is a really important scene. And that's a big psychological impact" confidence levels are up". D-22 house band White appeared in acclaimed UK alternative music magazine Wire. "They've been everywhere so no longer inferiority complex they don't give a shit anymore, they're doing their thing".

Chinese groups may be getting more famous, but no one's getting rich. "Its hard to make money unless you're doing cheesy commercial crap or for the movies," says Saliba, who gives bands almost the entire door takings. On a good night D-22 takes RMB1000 at the door from sales of the tickets priced RMB30 and RMB20. It's still a pittance. 'say there are four bands that's 200 Yuan each, and four in a band, that's 50 Yuan per person a night".

Sticking to the Communist ideal perhaps, D-22 prefers art over commerce. The bar aims to be an address for avant-garde music. "We do want to be on the cutting edge, we want experimentation," says Saliba. So punks play acoustic renditions of their songs every Wednesday night during a Punks On Wood session. Thursdays is the most experimental night of the week, the One Plus, organized by local critic and electronica artist Yan Jun. "We've had some weird shows," says Saliba. Like the night the experimental Polish musicians came by. "A woman was wriggling on the floor while a guy turned on and off lights on her body".

A house preference for punk and rock doesn't mean good jazz musicians won't get a gig at the D-22. "We are very open. What's good about Beijing is that at least so far the music scene is not so segmented. If you're into punk you just go to punk but in China it's more mixed up". Saliba remembers the night a punk show was followed by a performance by a touring Hong Kong jazz troupe. "We thought the place would clear out. But the punks stayed and listened. And I think that's musically a good thing". Saliba wants more jazz. We searched six months to find a band good enough for the D-22 Sunday jazz session. "There isn't much of a scene yet".

Pettis says his guiding philosophy is to take care of musicians, to whom the two partners pass on know-how garnered from the US and European music scenes. "It means we can turn it over to our musicians they can do whatever they want," says Pettis. "If they play something that's popular and a thousand people show up great but if ten people show up we don't give a shit. We're still going to do it". Many nights musicians are the bar's only patrons. "One of the things we've noticed and we like is that bands we like will play shows in other bars they don't like hanging out there and they come here and hang out".

The bar has brought recognition and audiences to house bands Carsick Cars, Joyside and PK14, who each play at least twice a month. "They don't feel they deserve to be rock stars," says Pettis. "Why not?! We think Beijing is ready to have a scene". Visiting foreign bands are often given too much credit by local musicians, says Saliba. "I think some of the Beijing bands are a lot better. How often do you have Scandinavian bands come to the UK or USA and they make a big deal about it" I've lived in many places but all my life I've never seen more than I have in Beijing! They come here and get a lot of attention. People think they're great".

D-22's busiest night apart from Christmas eve was the eight year anniversary of Hang On The Box, in July. Sadly the band has since disintegrated since singer Wang Yu and drummer Chengy split. "Wang Yu is well connected, supposedly there was a bunch of celebrities here. I wouldn't know. We had to stop people coming in, it got too crowded in here". "They may not be together for that much longer," concedes Saliba.

Then there's the danger of getting too avant garde. "There are nights where I myself, and I'm open minded, when I hated the music we had. If we did that every night I'd be afraid. Friday and Saturday we put on shows we like. We consider our taste good". "There's a lot of crap out there. We don't let bands on unless we hear them before".

There are other threats to the club. Rents in the neighbourhood are going up: it may be student land but it's also Beijing's software zone. A five star hotel is opening 300 metres down the road to house executives visiting Google's China headquarters next door. And these are low buildings. So it may not be long before they'll tear it down. We can't be sure. Wudoukou should be east village but tech companies are moving in."