This article was first published on CLUAS in Nov 2005
Beijing Beat: On the 'Zine
China's cottage industry of rock music mags: some fair, others foul...
Mark Godfrey, a CLUAS writer since 2002, is now based in China from where he files the 'Beijing Beat' column

I've lost count of the number of CDs from the Chinese publication
Rock Music Magazine
there are scattered around my desk. They all bear the same distinctive moniker, and a list of names bizarre and legendary. Most are still in the plastic wrapping they came in, made brittle by the dried glue with which they were pasted to the covers of the magazines they came pasted to. Every week, usually on a Thursday morning, the local newspaper cabin near my Beijing office is visited by a grubby deliveryman pedaling a heavily loaded tricycle cart. His heaviest bundles are usually of mass-market glossies like Cosmo and Trends Health, Chinese translations of international titles. Military News and Reader also come in large quantities.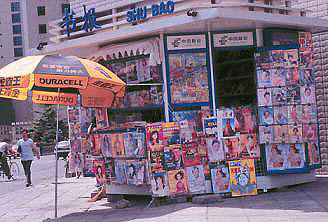 But, like a nuisance, once a month the binding is opened on a shallow stack of glossy Rock Music magazines, 80-page bibles of respect to the godfathers of local and western rock. On inside pages there's features and photos on the names that appear in the CD fastened to the cover and a pull-out poster of a big-name rock star. The CD pasted onto the October issue was embossed with a photo of young American duo the Arcade Fire, White Stripes wannabes who have been getting positive press from shows on the European and American festivals circuit this summer. Pure indie, but the rest of the bands featured on the CD appear in a jumbled, gender bending order that sees rapper The Notorious BIG sandwiched between Sniead (sic) O'Connor and Kahimi Karie.
'Your local authority on Mainland music'
Rock Music is top of the pile but the quality of China's other rock magazines varies between half-hearted and hideous. What the record companies can't supply in photos is made up for by photo-illiterate writers' efforts with digital cameras pocketed into concerts and interviews. Desperate before deadline, others turn to the low-resolution shots on record companies' websites or head to the handiest scanner when caught in a really tight spot.

One of the best of the rest, Koudai Yinyue or Pocket Music magazine champions a stable of local indie acts with a reputation for adventurism. Sitting on the shelf too, but much harder to find, Modern Sky boasts it's "the only sound magazine in China that keeps synchronization with the international music trends." A print run of 30,000 per issue with a CD retails at RMB20 (approx 2 Euros) per issue. "We want this music to be available to ordinary people, so the price has to stay as low as possible," says editor Tao Ran. The magazine has been building a distribution network but getting good writers has proven difficult, says Tao, who gathers the latest information on rock news and album releases from home and abroad as well as commissioning features and criticism written and edited solely by in-house writers.

Most Chinese magazines rely heavily on translations and reprints from foreign magazines but Modern Sky draws only its foreign rock music articles from outside: they're provided by the Hong Kong-based rock magazine Yinyue Zhimindi (Music Colony). "Few people in China who can write knowledgeably about rock music," complains Tao. "We want our content to be specialized, but popular. I really want a fresh style." His magazine's mission statement, plastered on an inner page of each issue, is ambitious: "Displaying a distinctive insight into the currents and future of Chinese new music, Modern Sky has become the beacon of fashionable music culture for the teenagers of modern China."
I know, it's only rock n' roll, but a license?
The idea of sticking a free CD to rock magazines has become a marketing tool in Europe and America as titles battle for readers. But in China the practise was born more out of necessity. Modern Sky is produced with a music publishing rather than a print publishing license. This excused the company from the excruciating and often futile process of getting a publication license from the State Press and Publishing Administration.

A magazine called Music Heaven run out of Guangzhou first hit on the idea when it began releasing a bimonthly magazine/cassette with foreign pop songs in 1993. But Modern Sky's compilation records were the first opportunity for Mainland Chinese rock fans to buy regular doses of new music. Moreover, the monthly compilations bring raw garage bands from the provinces to readers' attention along with tunes by regulars from the circuit in Beijing - China's rock capital - like Convenience Store and Brain Failure.
Soapbox for tomorrow's stars
Local rock magazines' neat way of getting around licensing laws provides the best open platform for China's underground and established rock music. Monthly CDs are a handy soapbox for Convenience Store, Rebuilding the Rights of Statues, and Milk and Coffee, all indie acts on the eponymous label run by Modern Sky. Jointly funded by Modern Sky and Modern Art magazine, the publication's sister title Listen-Art hit the streets in the middle of June, 2001. Aside from the regulatory free CD, the bimonthly magazine introduces new music with in-depth reviews and hipper-than-thou opinion pieces. Rock Music Magazine has plenty of competition then but I'm not giving up on my monthly dose of Chinese rock n roll. I've enough CDs for a collection.