This article was first published on
CLUAS in March 2006
Beijing Beat: Promotional Sounds
Promoting gigs in China? 'It's no cake walk, so hears Mark in Beijing...
Mark Godfrey, a CLUAS writer since 2002, is now based in China from where he files the 'Beijing Beat' column
With years of activity on the Chinese scene under his belt, musician and promoter Jon Campbell has learned what China's music fans want to hear - and pay for.
---

If you want to play to China's masses what kind of music should you play? "Pop music is pop music for a reason. It appeals to the most people." As a musician Jon Campbell has drummed and sung in bars, malls and corporate parties across China. From beach parties in sunny Sanya to real estate launches in dusty Henan and club gigs in Beijing the bearded Canadian learned there is no one type of music that fits the Chinese audience. "The audience here is like everywhere else. They know when they hear good music, and they like good music."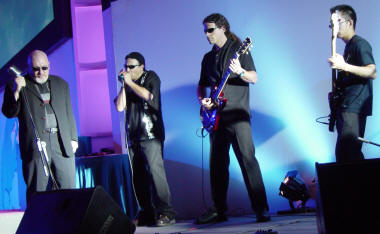 The problem is getting the Chinese to go out and see concerts - and to pay for the pleasure. Since establishing himself in mid 2005 as a promoter for expat groups and visiting foreign acts in China, Campbell, 30, has promoted all kinds of shows: from DJ sets to rock and hip hop. He's also taken jazz and folk acts to audiences in several Chinese cities. Crowds of locals and expats in Beijing "?have loved all of it," says Campbell. He's discovered a difference between audiences in Beijing, traditionally China's cultural and political capital, and brasher, more commercial Shanghai to the east. "In Shanghai, the way you show you're important is to buy tickets to events that are seen as 'hip'. In Beijing, the way you show you're important is by letting people know that you've gotten in for free."

The more loyal audiences are in Beijing but the money is in Shanghai. Thus American soul legend James Brown snubbed Beijing for a pay-day in Shanghai with his 19-piece band: the ageing hedonist, renowned for his lusty lyrics and financial problems, played the Yunfeng Theatre in Shanghai in February 2006. Meanwhile, Campbell points out, "unbelievable" jazz acts go through Shanghai jazz festivals while the "once-great" Beijing International jazz Festival, starved of cash, stuttered out after its 2001 edition. But the real fans are in the capital, says Campbell. "People who are truly into music will always come out, and there are more of these people in Beijing than anywhere else in the country. Of course, the biggest fans aren't generally the ones with much money. And those with money don't want to spend it on the stuff that those without money know are absolutely essential."

It's not lack of audiences that's holding the Chinese market back. It's infrastructure. "Equipment is available, but those with money don't see it as an important enough investment to justify the cost". A dearth of qualified technicians qualified to work sound systems is another block. "Why invest in an amazing-sounding high-cost system that won't be operated properly and won't sound like the price tag?" asks Campbell. Live venues have trouble maintaining their systems. The logic is that they made the investment in the equipment when they bought it, so why should the have to spend more money on it after that?"

Corporate sponsorship of contemporary music, already a staple earner for domestic Mandopop acts hurting from CD piracy, is an answer to foreign acts worried about poor ticket sales in price-conscious but enthusiastic Chinese audiences. "Audiences have to be able to afford the ticket, and it's difficult to offer a show for an affordable price without the help of sponsorship." But before they even search for locally-based companies willing to back them musicians, warns Campbell, must be able to ensure ticket prices are justified by quality shows. "There have been too many sub-par events for above-average prices and now it's difficult to get audiences to believe that they are paying for a quality experience."

A flood of artists coming to China will eventually force standards up, believes Campbell. What started in the 1980s as a handful of expatriates playing light-pop at diplomatic parties has since 2000 become a flood of foreign acts visiting - and in some cases, relocating to - China. Campbell himself is involved in three Beijing-based bands, playing variously blues, rock and world music. Before Campbell, one of the pioneers of foreign music was Madagascaran Eddie Lulasoa, who would eventually find fame as a guitarist in Chinese rock legend Cui Jian's early group. Though its faces are Chinese and African, Lulasoa's other group Mitabe sticks to an African beat in periodic gigs at Beijing rock clubs. The name, a Madagascan term meaning "togetherness" was chosen for the family band originally formed in 1983 by Lulasoa's father, a Madagascar diplomat in Beijing. The group wrote its own reggae, soukous and zouk songs but when some band members went to diplomatic postings in other countries those who stayed recruited Chinese, American and Indian musicians.

Despite current headaches finding suitable venues, sound technicians and audiences willing to pay for a concert tickets, Campbell is optimistic China will become a fertile paying ground for foreign acts and locally based expat-Chinese groups like Mitabe. "There is great music being made here, and so eyes will be on China not just because of the potential to play here, but also because of the potential for its musical exports. There are great people doing great things here, and that will continue."