Film Review: American Pie (18)
By now, everybody probably has heard about this film. And in particular, the scene in which one of the lead characters, Jim (played by Jason Biggs) is seen gettin' jiggy with the pie in question. While there is no doubting that it is a comic highlight, there are, unbelievably it would seem, funnier and grosser moments in this sly, hilarious teen sex comedy.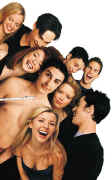 The concept is simplicity itself. Frustrated with their lack of success with members of the opposite sex, four high school friends make a vow to lose their virginity by prom night. That's it really. While there is a message in this movie (be yourself etc etc etc). What the movie does serve up though is a tasty, hilarious and, at times, cringe worthy collection of scenes in which the characters are humiliated and ridiculed for their inexperience.
It would be easy to label this movie as a teenager's 'There's Something About Mary'. While both movies share a sly urge to make the audience as uncomfortable and outraged as possible, they are, in most respects, poles apart. Firstly, no matter how chauvinistic they appear at the start, by the end of the movie, you will be rooting for the four leads. Played by four natural and talented nobodies (Jason Biggs, Chris Klein, Thomas Ian Nicholas and Eddie Kay Thomas), they manage to mix perfectly the side-splitting slap stick with the more emotional scenes.
But where this movie differs form other 'lad' flicks, is that it takes its time to develop the female characters as well. While, as is the case in most comedies, there is a degree of stereotyping, efforts have been made to make the girls as human and as independent as possible.
The script is full of inspired moments. Two worth mentioning are a brilliant parody of 'The Graduate' and a sequence involving Jim, the internet and a horny exchange student. But the film is stolen by one line uttered by band geek Michelle (played by Alyson Hannigan, Willow in 'Buffy the Vampire Slayer'). It is guaranteed to have you laughing for hours after.
As with 'Something about Mary', those who long after the verbal repartee of Preston Sturges or Billy Wilder should stay clear. What you get with this film is the funniest teen comedy since 'Animal House' with a cast to watch out for.
Ian O'Sullivan