Christy Moore & Friends
The Keadeen, Newbridge, 12 October 2004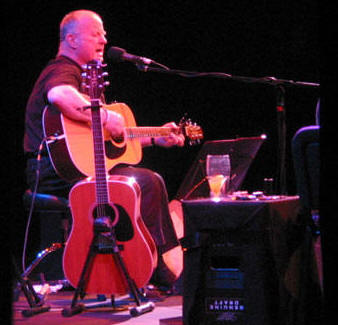 Review Snapshot:
A sort of homecoming. Christy performed with Declan Synott, Donal Lunny & Luka Bloom at this hometown venue for the first time in over 20 years.

Full review: As a special guest of Christy, his brother Luka Bloom opened the show with a bit of humour. "I just flew in from Black Trench here this evening, and this is a song I wrote about summer and friends called 'Summer and Friends", before launching into a short 30-minute set of beautifully written, and easy listening songs.

His next song had a similar tale. Written about his time as an altar boy (a time which he recalled as an enjoyable experience, he said "this song is about the innocence of being an altar boy". Appropriately titled 'Innocence', it was followed by 'Miracle Cure'.

He continued with a song about Mohammed from Nigeria called 'No Matter Where You Go, There You Are' before he proceeded to tell us about the 27 years he has spent living in several cities throughout the world.

"I sang this next song in Finland last week, and I asked them how you'd say 'I'm A Bogman' in Finnish, and they said 'Ole Yenti', and he finished the six song set by dedicating his final song to Christy, Declan & Donal with the suitably titled 'Thank You For Bringing Me Here'.

There was no interval so Christy and the lads made their way onto the stage immediately and kicked off with a couple of ballads in the form of 'One Last Cold Kiss' and 'Faithful Departed'. "I told you Donal they wouldn't throw ice, well not for the first two songs anyway" Christy joked, before continuing with 'North And South' and a beautiful rendition of 'The Contender'.

An old favourite 'All I Remember' went down well, as did the following 'Jonie'. After 'Yellow Triangle' he told us that "the Doctors told me don't be getting excited. F*** it, you can't listen to them all the time, if the nurses said it, that'd be different".

"I had a busy day today. I went up Charlotte Street, back down Eyre Street. Anyway, all the people I'm looking for ARE DEAD!" he joked with the crowd.

After 'Ride On', one fan shouted "Christy" to which his response was "I think he shouted that in case I didn't remember who I was". About to continue with another ballad he remembered "I was going to do another slow one, but if you do three slow ones in a row, the people go to sleep. Foster & Allen told me that".

Christie Hennessy's 'Don't Forget Your Shovel' pleased everyone, especially with his new lyrics about Daniel O'Donnell and his M.B.E. There was no pause for breath as he continued with 'El Salvador', 'Go Move Shift' and his introduction to 'Bees Wing' was "I heard Richard Thompson singing this song in 1968 and I asked him to give me the words?and he did?.last year".

'Biko Drum' was followed by a Morrissey song 'America' (which Christy got from him at Glastonbury this year), and he kept the pace slow for 'Ordinary Man' and 'Nancy Spain'. He received loads of requests for 'Lawless' and 'Joxer', but decided to go with the latter, which had us all in a frenzy.

Another audience request influenced his next choice 'They Never Came Home' after which he spoke about the Judge that banned this song in the 80s. "I hope wherever you are tonight, you're not feeling the cold" before continuing with 'So Do I'.

"The last time Declan, Donal & I played the Keadeen was in 1982. The room was smaller, the ceiling was lower, but there was no one here" he laughed, before kicking into 'Hiroshima Nagasaki', and a gorgeous version of 'Hurt' which he dedicated to Johnny Cash.

He finished with an extended version of 'Lisdoonvarna' (coupled with the Van Morrison classic 'Tell Me Ma') and alternative lyrics including "Sean Doherty likes to go down on the Rose of Tralee".

His locals gave him a standing ovation and ensured he return for an encore. "It's good to be back in Newbridge with Declan & Donal, and my brother Barry" he shouted on his return, before himself and Luka performed a duet on the formers 'City of Chicago'. They finished with 'Black Is The Colour' almost two hours after walking on stage and from the audience reaction he is still a God in these parts.
Mick Lynch