Cat Power
Review of her gig in Whelan's, Dublin, 22nd June 2003
Sometimes a lover of independent music will wonder if their passions are worth the effort and this performance by Athens, Georgia native Chan Marshall (alias Cat Power) was a case in point. Her star has been rising thanks to 2000's 'The Covers Record' and critical acclaim for the recent release 'You Are Free'. Bolstered by a history of colourful live shows, Whelan's was stuffed to capacity by an expectant audience, hoping to witness a legendary show for themselves.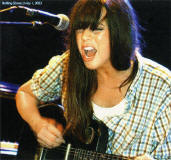 Things got under way promisingly enough, the entire audience being cajoled into sitting on the floor to view the spectacle. Complaining of a bump to the head suffered at an earlier London gig and looking decidedly dishevelled, Marshall subjected us to endless sound-checking, meandering anecdotes about her apartment and divulged that her phone is tapped by the CIA back home.
The music, when she got round to it, was a haphazard rendition of numbers like "Good Woman" from her current album and some completely new songs, all punctuated by stop/start guitar playing and further streams of consciousness. Some songs were improvised at the piano, while one could not help but speculate that others were being made up as she went along. A heckler was encouraged to leave the venue with a full refund, and I wondered if there would have been more takers had the offer been made unilaterally.

Thankfully the latter half of the show was a more controlled affair, with the biggest cheer of the night coming for a deconstruction of the Rolling Stones "Satisfaction". Support act Guy Blakesly was summoned to stage to relieve Marshall of her guitar duties, while she treated us to an impromptu walkabout on the dance floor before collapsing on her back whilst still in full tune. Eventually the microphone was grabbed from her hands by an official, who announced that the show was over. "I should have just bought the album" was a popular refrain from a startled but strangely entertained crowd.

Eigthy five minutes, seven songs, mumblings and ramblings galore. The live reputation remains intact then, and the Cat Power legend lives on.

Brendan Bradley

Check out the CLUAS review of Cat Power's 'You Are Free' album.