This article was first published on CLUAS in March 2001
Above and Be Low
Colm gets to meet up with Alan of US wonders 'Low'...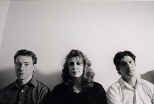 Sabotage, quietness, harmony, babies and GAP commercials, the release of their new album "Things we lost in the fire" and a European tour looming, have left Low feeling a bit tired. I spoke with Low's singer/guitarist Alan Sparhawk and one half of the Sparhawk songwriting marriage.
---
CLUAS: How are you? Have you been working hard today?
Alan Sparhawk: Well we've been trying to answer some mail while we have some time off. We've only had four or five days off because we've been pretty much playing gigs solidly around the States so I'm trying my best to do absolutely nothing?just fulfill regular household stuff.
You last played Dublin in November what have you been up to since?
Well that was the last night of that tour so we came home and played a few shows and them took some time off for Christmas break. After that we we're working flat out 'cos the album was coming out the top of January.
Have you got any kind of vacation planned for yourselves?
Well we still have some shows to fulfill over here before we travel to Europe for March, when we get home in April we'll be playing in the main towns around so it's probably gonna be in May or something. I mean it gets really tiring. Last time we came out on tour, we brought our child and that is work in itself.
How is you daughter?
Yeah, she's great. She's actually one-year-old tomorrow. We're gonna have a party the three of us and spend the day together, I'm really looking forward to that. Great.
(I couldn't help it, y'know but...) Do you get free Gap clothes for her birthday, in light of your recent "soundtracking" of their ads?
Well I don't know if we get that?just some money as far as I was aware!
How did you feel when the Gap approached you to do the Christmas campaign?
Well I'm not sure if it has affected us greatly but I can see us changing. Like, we were approached by the GAP to see if they could use our music. At first we were a bit take-a-back because we didn't know if we wanted that association, but we decided that it was okay to do. I mean we've got a daughter now and our priorities are changing daily. I don't really mind money.
Hey what's all this green paper!
Yeah. Like people kinda teased us a little about it. But I'm not so sure it's really boomed our sales here.
Do you see the future of the band changing as, for example, your daughter starts school and it becomes more difficult to tour?
Well normally we don't think that far ahead, we just plan album by album. Our schedule isn't really as straining as it used to be. I mean we've been playing as many gigs as we could for six or seven years, but it was different in the sense that we played unnecessary shows, like we just wanted to be on the road and meet new people, I think we've all moved on from that though. Now we kinda have to sit down and look at the map and think about what we need to do. It's hard though getting used to playing in front of people instead of just 200. The whole touring was fun and I really enjoyed it.
There are a lot of guests on the new album, did you find it strange to record with so many new people since songwriting has always been so intimate for you?
Well we really wanted to branch out on this album. We put a lot of work into different sounds on the album. The main addition was from Marc D'Gli Antoni who added an extra dimension to the sound through his piano playing, I enjoy playing more with people who are more musically adventurous than musically astute. I mean Marc's piano-playing is very sparse and that's what I like.
Brian Eno once said that it's a greater talent to learn not to play than to actually play.
Yeah I think that applies to us. I think it sounds heavier.
You have some lavish harmonies in there.
Well, if I could actually allow myself to say, if there's one thing that I could point to that we do well it is harmonies. We're not the greatest musicians, of course you can get around that but we work hard on vocals.
You've worked with Steve Albini on a couple of albums now, are we noticing a little pattern emerging?
Well, I don't know, we normally work on a couple of albums with the same guy and then have a rethink. But he's amazing in the studio. He doesn't get enough credit for the diversity of his skills. Like he's produced stuff by Songs:Ohia, The Auteurs, PJ Harvey, I mean some of that Autuers stuff in out and out pop music and that's aside from people like Nirvana and his own Shellac. But I don't expect a call from Brian Eno too soon! No 72-piece orchestra here, but that would be nice!
What inspired the title of the album?
Well it's actually taken from a line of a song on the album. It's one of those phrases that makes you ask yourself, well 'what could I lose in a fire'. We kind of liked the idea of people asking questions about it and then we could let them down by saying we just made it up!
The next show in Dublin is in the Olympia theatre. It holds about (I go into a rant about how great the Olympia is)?
Wow that sounds great. Considering we only played to, like, 250 people last time.
During your last Dublin show you were joined onstage by Joss from Joan of Arse playing a saw and you gave everyone a lecture in the horrors of headlice - have you any special plans for Irish audience this time?
Maybe so dancing elephants. Normally these things happen a bit ad hoc. We kinda throw it in at the last minute. I don't know let's see what happens.
Have you heard much about the Kings of Convenience? (Low's support act)
The Kings of Convenience have been tarred with the Simon and Garfunkel brush. It's gonna be strange playing with a band who are actually quieter than us. Normally the support comes on and rocks and then on we come. We may have to sabotage the show.
Our conversation gradually digresses into different forms of sabotage until we finally call it a day. The man is one nice guy.
Alan Sparhawk of Low was interviewed by Colm Downes

Low play the Olympia Dublin Tuesday 27th March supported by Kings of Convenience. Their new album "Things we lost in the fire" is out on Tugboat Records.