Oasis
A review of the album 'Familiar to millions'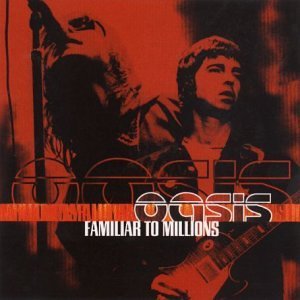 Not so long ago Oasis were everyone's favourite indie superstars and had press and public doting over their every move. These days it is becoming apparent that their moment in the sun is fading. It's not quite passed though, as the bands ability to draw 70,000 fans a night to Wembley Stadium in summer 2000 proves. 'Familiar to millions' is the title given to the live recordings of these shows. This double CD is basically a greatest hits collection, albeit live. Rock n' roll played well in an environment filled with adoring fans, no more no less. It's all a little bland and by the book, but that said I'm not exactly a big fan.
There is no doubt the band have some great songs and they are all here, sounding much the same as they do on the studio recordings. The trademark twanging guitars and whining vocals are all out in abundance. In fairness there are highlights - 'Live Forever' was always one of the band's best songs and here it sounds as good as ever. 'Champagne Supernova' and the band's rendition of 'Stand by Me' also sound well. In fact all the songs sound well it's just that the music reaches no great heights, there's no magic here. 'Don't look back in Anger' features the capacity crowd in Wembley Stadium on vocals during the chorus. An enticing prospect I'm sure you will agree. It was during this rendition that I was thankful I didn't get the video to review - at least with this live CD you can't see the band posing and pouting, nor can you see the lighters waving.
This album really is one for the fans only. As you may have gathered, I am pretty glad I wasn't at the gig, but if you were and you enjoyed it terribly, you should probably go out and get this CD for yourself. Otherwise I wouldn't bother.
Niamh Grimes