Josh Ritter
A review of his album 'Golden Age of Radio'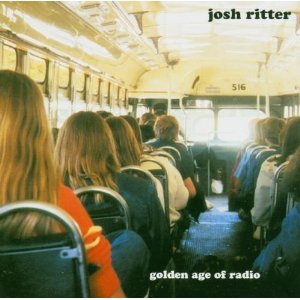 There are songs in the American Midwest. From Tom Waits' 'Whistle Down The Wind' to Springsteen's 'Nebraska', the area has been tapped by songwriters as a source of a jaded, real America. And it is off this freight-train from Idaho that Josh Ritter arrives, with an album containing echoes of Johnny Cash, Townes Van Zandt and a suburban Woody Guthrie.
Though based in Rhode Island, Ritter has been a familiar face on the Irish live circuit, regularly playing Dublin, Cork, Galway and Sligo, and often with the support of leading Irish musicians - Glen Hansard and Mundy and others besides.
And like his live sets, which this album reflects in tone and content, 'Golden Age of Radio' offers something fresh, but so deeply ingrained in American song tradition, that you'll swear you've heard half of these songs before. The genius is, you haven't.
Ritter provides us with 12 songs that, although rooted a country/folk mode, are realised on record in a manner which makes them accessible to all - from embattled old folkies to FM radio kids. The best example of this is 'Me & Jiggs', touted as the lead song on the album, a poignant song of teenage rebellion in a down-home four-chord progression, recalling a time when: "we were sittin' on the porch / play guitar to burn off the hours / till we climb the fences at the edge of town / and paint our names on the water towers."
And most of the songs reflect this friction between life in a suburban mid-West town and a notion of 'escape' to the road, the city, the country - wherever. Leaving a small-town love, Ritter sings: "West of her there's a place I know / Never been but I'd like to go?/ You'll probably end up thinking that I don't care / when you get a letter from a new somewhere."
Indeed, this concept of motion drives much of the record - "Roll On", "Leaving" and "Drive Away" all deal with themes of travel and departure, and, in the classic nature of this tradition, Ritter's heroes and heroines wistfully fall short of their destinations, if they were even sure of them to begin with: "It's a long way to Heaven / it's closer to Harrisburg / And that's still a long way from the place where we are."
New American acoustic music is occasionally blessed, or more often cursed with comparisons to the icons who have passed before - and Josh Ritter will be no different in this regard. However, the strength of these recordings sustains comparison with Johnny Cash ("Roll On"), Tom Waits ("Lawrence, Ks") and, dare I say it, country-era Dylan ("Me & Jiggs").
Chief among these influences appears to be that of Woody Guthrie, in particular the lyrical themes of Guthrie's non-political songs (showcased recently by Billy Bragg & Wilco). When Ritter sings in 'Lawrence, KS' that "dirt roads and dryland farming may be the death of me / But I can't leave this world behind", dusty echoes of Guthries' 'Ain't Got No Home In This World Anymore' can be heard over his shoulder.
In an music industry where Big-Mac Americana is peddled endlessly, it is difficult to see how Ritter can make his voice heard. But anyone who wants to experience a modern America beyond Hollywood, Bush or 'New Yawk City' should begin here.
These are 'American recordings' in the fullest sense.

"Golden Age of Radio" is released on Hungry Ear Records


Check out the CLUAS interview with Josh Ritter.