The Frames
A review of their album 'Burn the Maps'
Review Snapshot:
It's not going to change the world. It probably won't change your life. And it may not change your opinion of The Frames. But their new record is still a good one, regardless of our expectations or prejudices.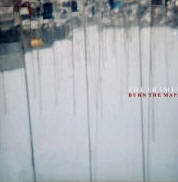 The CLUAS Verdict? 7.5 out of 10.

Full review:
Headlining large open-air shows, America finally taking notice, record company woes long forgotten - life is good for The Frames at the moment. No longer a 'cult' or 'underground' band, they are now an established and successful act with their sights set on worldwide attention. 'Burn The Maps' is their first release in these circumstances and therefore carries a great deal of expectation.

It's unfortunate, then, that our first impression of this album should be a bad one. 'Finally', with its dull, chugging guitars and weak chorus, was a poor choice as a lead-off single and it's the lowest point of this record.

However, 2003 single 'Fake' is included and it still sounds great. The quiet and insidious verse melody, the raging chorus, the sly nod to Willie Nelson's 'Always On My Mind' - it's a song that brilliantly captures the regret, anger and hurt of a broken relationship, one of the recurring lyrical themes of 'Burn The Maps'. The most accessible song on the album, it offers further evidence that Glen Hansard has matured into a subtle and good-humoured songwriter and has finally left behind the overbearing and self-important poser of those unlikeable first two Frames records.

Much lazy analysis of The Frames talks of them being in thrall to Americana, especially dustbowl lo-fi like Sparklehorse. Certainly, 'Suffer in Silence' depicts a landscape where "locusts fill the sky" and the punk of 'Underglass' explodes into a screeching Pixies-like chorus.

In fact, for the most part 'Burn The Maps' demonstrates that The Frames are a quintessentially European band with eclectic and cosmopolitan European influences stronger than American ones. Opening track 'Happy' and 'Ship Caught In The Bay' blend melodic pop with avant-garde rock in the manner of Belgian art-rockers dEUS, whose former guitarist Craig Ward appears on this album. Elsewhere, while Warren Ellis of Australian band The Dirty Three is usually namechecked in reference to Colm Mac ConIomaire, his clean, metallic stabs of violin are closer to Welshman John Cale's similar sounds on the first Velvet Underground album. Also apparent throughout the album is the lovely bleakness of acts like Mogwai, Sigur Ros and especially Stina Nordenstam's 'And She Closed Her Eyes'. And of course they have a distinctively Irish personality - how about Glen's strong Dubbalin "Ah come on!" in 'Finally'?

Images of sound and silence abound in Hansard's more poetic and thoughtful lyrics here, and Dave Odlum and Rob Bochnik (former and new Frames guitarists respectively) on production duty back him up with some subtle ambient layers. 'Burn The Maps' is a record for quiet, late-night listening and is therefore closer in spirit to 'For The Birds' than 'Dance The Devil'.

Sometimes, though, the overtly dramatic arrangements overwhelm the more delicate songs. A track like 'Keepsake', quiet and contemplative to begin with, is suddenly swept away by 'Fitzcarraldo'-esque violin swells and guitar thunder. This album's moods are fleeting and changeable like the weather, and much of your attitude towards it will depend on whether you find these constant shifts to be forced and uneven or tempestuous and emotional.

Will 'Burn The Maps' catapult The Frames into international stardom? It's unlikely, if they continue to rely on a tuneless anti-single like 'Finally' for promotion and airplay attention. Will it convert those who don't like The Frames? Maybe not, as it's still a recognisable Frames album of alt-rock dynamics and solid, introspective songwriting. Is it the band's best album? No - it doesn't have the instant pop thrills of 'Dance The Devil' or the contemplative poeticism of 'For The Birds', and newcomers or converts to The Frames should start with those two records in that order before progressing to this one.

Nonetheless, 'Burn The Maps' is still a strong and imaginative album from the best band in Ireland. They're right to trust their own sense of direction.