Fun Lovin Criminals
A review of the album 'Loco'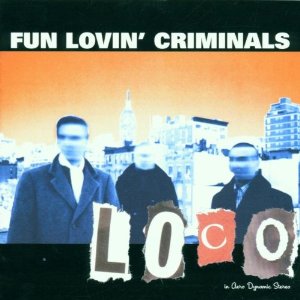 This album has no format and no direction. It is very often cheesy and crass, and is completely pretentious from start to finish! Yip, it has all the markings of another Fun Lovin Criminal's masterpiece!
Their latest offering kicks off at its lowest point, however, with the raucous, trashy 'Where the Bums Go.' Even the sublime background skills of Dermot Doran fails to save this one. Musically, Loco would be better off without this little novelty piece, likewise the final trio of tracks : 'Dickholder' sounds like a posse of hillbillies on speed, 'Little Song' paints a picture of Willie Nelson lamenting with a bad dose of piles, and a not well enough hidden track which sees the 'Bartman' go all South-Central, L.A. But as we all know, these guys are as much about their carefree, slapstick attitude and charismatic charm as they are about their music.
Thankfully though, the remainder of the album is nothing short of a treat. Title-track and first single, Loco is a beautifully crafted tune (reminiscent of Freakpower's mid-nineties hit 'Turn on, Tune in, Freak out?') that reeks of good times and is filled with schmoozy summertime grooves that hopefully will not just be remembered as that song from the 'Miller' ad. 'The Biz' and 'Swashbucklin' in Brooklyn' are both given the Simone Hines treatment with ethereal effect. The former a stab at the music industry hierarchy while the latter reads like a theme tune to some 'Hawaii Five-0' style TV series concocted by the Detectives Huey, Mackie and Fast. This gem is bound for triumph if released as a single. 'Run Daddy Run' is a return to more familiar territory, delivered with a healthy portion of FLC TLC. Elsewhere 'Bump' is mild 70's funk-soul so camp it makes the Village People look like the Beastie Boys while 'Underground' and 'She's My Friend' provide a gentle tug at the heartstrings.
Overall, tracks 2-12 would have been sufficient to mark this as truly exceptional work. The tongue-in- cheekness of the other songs misses the target somewhat and does taint the album a little. But if you are a glass half-full kind of person then make no mistake, you're gonna love this.
Frank McNally