Christy Moore
A review of his album 'This is The Day'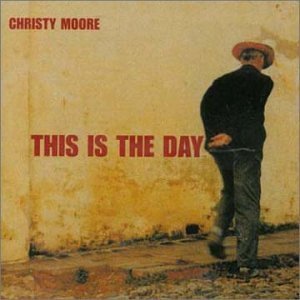 This is the Day marks Christy Moore's first release since 1999's impressive 'Traveller' album, and follows a period in which rumours of his ill health and demise have filled column inches and dogged the great man's name. Far from ailing, and after thirty-two years and countless album releases, he's still going strong and thankfully shows no signs of slowing down.
The album kicks off with the beautiful Jackson Browne cover 'How Long,' followed flawlessly by the Wally Page song 'So Do I'. Moving Hearts cohorts Donal Lunny and Declan Sinnott provide the subtle and tuneful backdrop throughout but the real stars here are the songs and their honest delivery. Although never the world's greatest songwriter, Christy has sang and recorded some of the most memorable and defining songs of the past two decades. The message, it seems, has always been more important than the messenger, and the fact that just two of the eleven offerings here are self-penned highlight the quality of the albums remaining songs.
'This is the Day' revisits well trodden past glories with both Jimmy MacCarthy and Ewan McColl songs present, the latter's 'Companeros' providing one of the albums standout tracks. The two new songs, both oddly enough dealing in some way with Irish journalism, prove the album's weaker points but the cracking 'Victor Jara' and haunting 'Piper's Path' round things off well making this the perfect 'start of summer' album.
'This is the Day' can be a bit of a slow burner, but the songs effortless delivery grow more impressive and familiar with each listen. This album captures Christy Moore and company in full creative flow and proves once again that his troubadour powers are far from finished.
Guaranteed to keep the diehards happy and convert a few along the way. Keep her lit Christy.

Brian Bolger