Neil Young and Crazy Horse
A review of the album 'Live at The Fillmore'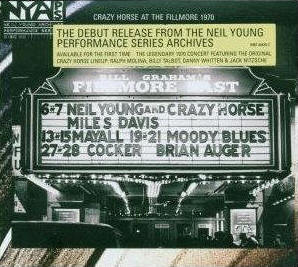 Review Snapshot:
This is the recording of one gig in 1970 that shone the torch that led the way, and beckoned so many to follow. It is an eruption of glory from the stage of The Fillmore East that will ignite your ears and fill your heart.

The Cluas Verdict: 8 out of 10.

Full Review:
It's March 6th and 7th 1970 and something's happening, something big. At the Fillmore East playing after the legendary Miles Davis is Neil Young and Crazy Horse delivering one of the most stonking shows to be heard live then. And now for the first time it's all mixed and mastered on record. This release of six massive songs played over these two dates is exemplary, it set the standard for gargantuan gigs of the 70s, from Fairport Convention to Led Zeppelin, and it sounds s fresh and raucous as it must've then.
These epics of perfect pop originate from a few swipes of notes on the guitar and ascend into lyrical and vocal beauty from Neil Young, culminating in a gigantic jam that sweeps across every note in the chromatic scale and is a euphonic orgy of over-the-top guitar mastery. Especially on 'Cowgirl In The Sand' you can hear where The Mars Volta have picked up tricks, at the same time as noticing elements that bands like The Shins have borrowed from?
'Down By The River' is classic Young, such an indelibly catchy chorus, such gorgeously placed harmonies, hammer-ons and hums, and such an ineffable distinctiveness that ranks him right up there between Dylan and Drake. The atmosphere on the record is huge, the crowd are bristling, bustling and buzzing with anticipation, awe, fervour, fever and satisfaction. You really get the feeling of what it would be like stood there in front of such majesty and you wish you'd been born, ten, twenty, thirty years earlier. Then there's 'Come On Baby Let's Go Downtown', a song so superbly crafted it becomes instantly timeless and memorable.
This album is demonstrative of a pioneering spirit in music rife at the time, the show serves as a precursor to what was to follow, as Young's musical peregrination has always served as a shining light guiding the way forward, even when at times it was lambasted and criticised, and this album serves as the memoir of such a triumph, such a revolutionary step in music history, led by Dylan at the Albert Hall, continued by Young at the Fillmore.

Daniel Bristow

Check out the CLUAS review of Neil Young's album 'Are you Passionate?'


To buy a new or (very reasonably priced) 2nd hand copy of this album on Amazon just click here.