Bora Bora Blue
Mike Moore's first dispatch from Polynesia - April 2001
The Letter "b" does not exist in Tahitian so Bora Bora is actually Pora Pora meaning "First Born", the first island born after Raitea the ancient capital of the Polynesian culture. Bora Bora consists of a 10 km long main island, a few smaller islands in the lagoon and a ring of "motu"s (flat reef islets) on the barrier reef. Mount Pahia towers (649 m) over the principal town of Vaitape. Bora Bora has been inhabited since about 900AD and about 6000 people now live on the island. In 1942 the American Navy built a base on the island to support the Pacific war and some of the remnants survive today. (The airfield, submarine base and some of the anti-aircraft guns).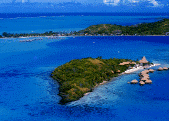 The first thing that strikes you as you get off the plane is the blues of the water, like Irelands forty shades of green there are at least forty shades of blue from a deep blue to a vivid cyan to a clear turquoise. The temperature of the water is like a swimming pool, comfortable to swim in for hours on end. The wind is almost constant, varying in strength from 10 - 30 knots but it is warm, very refreshing, and very welcome.
Bora Bora is all I imagined a topical island to be, with a towering peak at its heart, surrounded and covered by lush tropical vegetation, palm trees, coral reef and amazing sand beaches.
Each day we swim and snorkel over fantastic coloured coral, teeming with vividly colourful fish, industriously working in their tropical waterworld. Swimming with majestic manta rays, their wings spread as they gracefully traverse the reef.
Some days we see cruise ships in front of Vaitape. Big ships with passengers swarming all over. The passengers are ferried into the town and suddenly the sleepy town is crowded with people. Busily moving to get into groups for their tours, the glass-bottomed boat, horse riding, diving or safari. The vast majority don't get to actually get into the water, in my opinion the most wonderful thing about this paradise.
I like the unhurried pace we take and the interactions with the people, the opportunities to embarrass myself with the very little French I remember from secondary school. However the smiles, good humour and patience I'm rewarded with make it worthwhile ;-)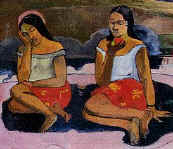 The islanders are very friendly, beautiful people. Paul Gaugin lived here (after working on the Panama Canal) and the beauty of the people is clearly reflected in his paintings. While walking through the town to the local shop, we met a group of school children (7-8 years old) walking along with their teachers, two by two. They filed past with smiles and a cheerful "bonjour" until one little girl put out her hand to shake hands and suddenly we were like the royal family. They all want to shake hands and give us a big smile. No-one wants to be left out.
Well, unfortunately we have only got another few days in Bora Bora, We'll be leaving here early next week and heading to Raitea to stock up on fuel, propane and then heading to Hawaii. Back to the land of the boring money (the Polynesian notes are very colourful and quite beautiful ). I will definitely be back. As we sail past Bora Bora Yacht Club, I can see a multinational fleet of boats, French, American, English and Swiss and know that one day I'll be here on my boat.
Mike Moore, April 28th 2001

Check out Mike's May 2001 dispatch from Polynesia which sees him battling a Pacific storm before turning back to port and, uh, chilling out in a hammock.