A Year in Australia (part 2 of 3)

After Sydney we headed north up the east coast for the summer, camping each night by the sea. The original plan was to spend a couple of nights in Byron Bay, the hippest and hippyest town in Oz. In the best backpacking tradition we ended up staying a fortnight. Many nights were spent in the open-air bar of the Byron Bay Hotel, trying to spot The King of the Crusties. It?s a fab little place with excellent surf and, holding the distinction of being the most easterly point in Australia, it is home to beautiful sunrises. This spectacular is a must see, which I unfortunately didn't.
Further along the coast we went out to Fraser which is the largest sand island in the world. The deal is that nine people hire out a four-wheel drive and tear around the island for three days, swimming in stunning lagoons and hurtling down dunes on sand boards. At night, while everyone sits around the camp-fire, dingos and huge iguanas hang around waiting to thieve anything edible. One of the highlights over the few days was seeing wild horses galloping along a moonlit shore - sounds like a spoof but, honestly, we saw it.

Next up, was a three day cruise of The Whitsunday Islands, so named because they were apparently 'discovered' on... wait for it...Whitsunday) which are at the southern tip of the Great Barrier Reef. We snorkelled, scuba dived and generally cruised for three days in this paradise on earth. The coral reef is spectacular. It's like an exquisitely manicured underwater garden. Each tiny piece of coral looks as if it were carved from precious stone. The reef dwelling fish are not to be out-shone by their habitat. From shoals of minute electric blue fish to huge gliding manta rays all utterly breathtaking. These three days spent diving and swimming by day and drinking cartons of cheap wine on the beach by night were the best days of the whole Australian experience.

Having seen the rest of the East Coast and stayed in Brisbane for a bit, it was time to head back down the coast to Melbourne. We had met lots of other backpackers along the way and we all began to converge on Melbourne at the same time. As most of us had been travelling for a few weeks, we were uniformly broke. Between eight of us, we decided the cheapest accommodation option was to rent a flat in St. Kilda, a trendy but seedy suburb by the sea. Our tiny unfurnished two-bedroomed flat became home for nearly three months. Slowly acquired bits of furniture although there was a preponderance of green milk crates. We even had a TV briefly before it exploded.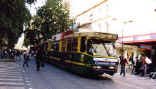 Melbourne is obviously a great city as it has trams. Its not as beautiful as Sydney but then neither is it as frenetic. There is a definite Mediterranean feel to it, with long boulevards and al fresco dining. Peculiar to Melbourne is the amount of excellent public art. I'm not talking about statues of forgotten dignitaries, but dynamic and thought provoking pieces. There is the old-fashioned purse about 5ft by 3ft that has been 'lost' on Swanston Street (and which every backpacker tries to prise open whilst their mates take silly snaps). Further down the street, three elongated business men stand dazed and confused at the crossroads nervously clutching their suitcases. Just outside The National Gallery a series of water instillations are crowned by a giant abstracted angel. A brilliant city to go wandering in.
However, against this idyllic backdrop social dysfunction is clearly visible in the amount of drug abusers on the streets. For reasons beyond explanation, heroin is the drug of choice in Melbourne. Selling for about ?4 a hit it is considerably cheaper then marijuana. The resulting problems of poverty, prostitution and theft are predictable and are no different to the problems faced by most major cities. However, compared to the other Australian capitals, the sheer number of addicts is phenomenal. On a sunny day in St. Kilda watching the world go by is totally bemusing as junkies, backpackers and the chic arty set rub shoulders.