Bratislava for Beginners
Sheenagh provides the lowdown on an overlooked gem of Central Europe
It seems there 's ignorance out there as to Bratislava's exact geographical location. So let's take the opportunity to get some basics clear - Bratislava is the capital of Slovakia, Slovakia having once been part of the former Czechoslovakia. It has been described as a poorer relation of Prague, however it can be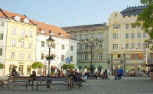 much preferable to Prague, as Bratislava is virtually tourist-free. There is more of a Mediterranean atmosphere about the city and it has plenty of charming statues and cobbled alleys, as well as a very affluent centre.
The downside to Bratislava? It's not very tourist-oriented and there are few signs or menus in English. If you speak a smattering of German, you will find it easier as the waitresses and waiters are used to Austrian tourists invading their city on bank holiday weekends, Vienna being only one hour away by train. The Slovakian language is very similar to Czech (below a few useful phrases can be found). Unfortunately, we spent most of our holiday mistakenly thinking "Dobre" meant "Thank you". It appears now that it actually means "What?"!!
Bratislava - the facts:

January 1 1993 - became the capital of the Slovak Republic,


Situated on the Danube and only 16 km from the Hungarian Border


Currency: Slovak Crowns (1DM = 22 Slovak Crowns = IR?0.40 (as of July 2000))


Accommodation office: 00.42.1754.434325


Bratislava Information Service( BIS) can be found at the main train station


There is a Tesco in the centre of Bratislava! (Slovakians we found were very proud of their Tesco...)
Accommodation:
We found accommodation quite easily and hostels are open from 1 July on. We ended up staying with an elderly Slovakian lady in her sitting-room-cum-bedroom which was full of old crystal in the cabinets and religious pictures. This cost us 250 Slovak crowns a night (about IR?4). She did not speak any English nor did she speak German, but we prevailed with our "Dobre"s (!) and a lot of sign language. The street we lived on was called Svodora (Nr. 13) and was very central.
Eating out:

We ate at "La Dolce Vita" and in Cafe Laguna had the most fantastic banana split (which costs about 60p and is called "Banonvy Split"). A glass of beer costs 30p in Bratislava, as does a glass of wine. "The Dubliner" Irish pub, on Sedlarska 6, in the centre does lovely lunches, but try for something traditional and Slovakian - near the castle, there are some traditional restaurants. Bratislava has a very good pub and cafe culture. The main restaurants are to be found on Panska or along the Danube ('Dunaj' in Slovakian).
The People
The people are extremely friendly and helpful. Although the centre is very affluent, if you venture into the suburbs, you'll find evidence of poverty. Commuters who work in Vienna bring a lot of wealth to the centre of Bratislava, but the outskirts are sadly lagging behind.
Sights to see
On our second day, we took a trip to Devin Castle (Hrad Devin), which was a Celtic settlement. The Celts and the Romans settled for a while in Bratislava and later the Turks nominated Bratislava as their capital city. The sense of history in Bratislava is fantastic.
There are some breath-taking views from Devin Castle, as well as museums with loaves of bread dating hundreds of years and Celtic jewelry. The guide was very enthusiastic when she heard I was Irish and my friend Welsh and she started to point out all the Celtic artifacts in a mixture of English and German.
To get to Devin castle, you take No.29 bus from Novny Most - the bridge opposite Hotel Danube. You could alternatively get a ferry to Devin Castle, which costs 70 Slovaks return (just over IR?1).

Another place we visited was Slovenske Narodne Muzeum - the National Museum in Bratislava Castle (Bratislavsky Hrad - see photo to left). From this castle, you can see vast communist architecture on the other side of the river, providing a stark contrast to the more westernised side we were living in.
Getting Around: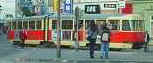 It is very easy to get around Bratislava and if you get lost, you will have better chances of finding an English speaker among the young. Older people speak excellent German. There is a laid-back atmosphere in Bratislava. We spoke to two Romanians who were studying there and they said it was quite slow and easy-going, and that the transport system - while not bad - was a crazy system. You pay in advance for the number of minutes you think you will be on the bus!
Why visit Bratislava?
Bratislava is a great place to spend 2-3 days in, if you are looking for a break from all your hectic inter-railing or if you have no desire to go home looking undernourished and washed-out! If you are on your way to Prague or Budapest, I would heartily recommend Bratislava.
If you want to experience one of the newest, and yet oldest, capital cities in Europe (as well as one of the cheapest) put Bratislava on your itinerary if you are inter-railing this summer. Go off the beaten track a little and you will be very pleasantly surprised. We did and were all the richer for the experience.
Some Basic Slovakian:

Ahoj = Hello,


Dovidenia = Goodbye,


Ano = Yes,


Nie = No,


Prosim = Please,


D'akujeme = Thank you,


Kolko to stoji? = How much is it?
Sheenagh Daly