Velvet Revolver
Review of their gig in the Point, Dublin, 12th January 2005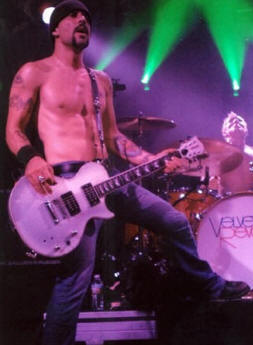 Review Snapshot:
There's something special in the air tonight as we approach the Point Theatre with Dublin about to witness one of the fastest rising rock bands the music world has seen in a long time. From the release of their album Contraband mid 2004, Velvet Revolver attacked the rock world with aggression not seen since the days of Guns N Roses. And considering this band is compiled of 3 ex-members of Guns N Roses, along with the lead singer of the Stone Temple Pilots, this is hardly surprising.

The CLUAS Verdict?
8.5 out of 10

Full review:
"Sucker Train Blues" begins the night's proceedings with a bang. Bare-chested Stone Temple Pilots singer Scott Weiland (who, perhaps now, will finally be recognized as one of the finest vocalists of his generation), is a sex symbol sleaze-machine as he leans across the monitors, snaking his way across the stage. Backed by Slash's vintage solo's and legendary guitar lick's, Duff McKagan's boiling bass lines, drummer Matt Sorum's beats and guitarist Dave Kushner's riffs tonight's performance is every bit explosive as one could have hoped. When Weiland has finally calmed down, it's time for "Fall to Pieces" (a song composed about his wife), to which the crowd respond with a triumphant roar. Whether it's because they know all the words or whether it's just because this is the first break in a non-stop action-packed set is unclear, but the one thing that's certain is that it will most definitely become a power ballad of its time, beautifully emotive as it is.

Again, with a certain magic in the air, Duff McKagan starts up his Bass and we are transported back to 1987, as Guns N Roses favourite "It's So Easy" kicks the crowd up in such a way that there isn't dry spot left on the walls! McKagan provides backing vocals to this track, allowing Weiland to sing along, but not as powerfully as on his previous efforts. Weiland mutters that "if you liked that, you'll love this" and the band perform a powerful version of "Big Machine", giving us time for a bass and drum solo as the song is extended beyond its usual four minute duration, ushering in Slash for a guitar solo before closing with a triumphant repeat of the last verse. Stepping off stage for a brief moment, the iconic guitarist returns with a cigarette, asking why the Irish hadn't put up more of a fight against their ban, and defiantly smoking it while on stage. Its unclear as to whether the promoters have allowed this, but Slash doesn't really seem to care, and takes a few more drags before positioning it on the machine head.

"Set Me Free" closes the main part of the show, and gives the crowd a taster of a rather different side to the band. While the song is indeed Velvet Revolver, its lyrics convey the band's struggle to escape drug-fuelled binges while building the foundations of this band. It's a fitting end to the main set, and leaves the crowd wanting more, knowing that they'll get it.

There is time for two encores tonight. The first is a semi-acoustic strum through original GnR song "Used To Love Her" and there own personal acoustic track "You Got No Right", ushering in a sense of quiet time and reflection. While "Used to Love Her" is apparently a bit of fun for the fans, "You Got No Right" seems to be a very personal song; its lyrics reflecting a personal heartache. A small drum solo ensues and turns into the Guns' classic "Mr Brownstone". Relentless in their appeal, the band perform their most recent single "Slither", the song the crowd have most expected to hear, so why not leave it till last and go out with a bang.

The truth is though that this band have already made their mark, and the guitar residue left in my ears might finish ringing in the morning, but the impact of this band certainly won't.

Wayne Madden

?