This article was first published on CLUAS in April 2008
Interview with Johnny Cronin of The Aftermath
Ken catches up with Johnny from Mullingar-based The Aftermath...
It's been a long time coming but Phantom FM favourites The Aftermath release their debut album 'Friendlier Up Here' on Friday, April 25th. It's been well worth the wait. Ken Fallon recently caught up with the band's frontman Johnny Cronin.
---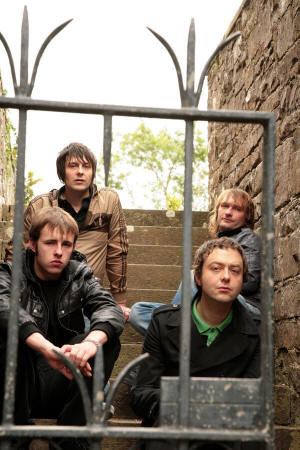 Your debut album 'Friendlier Up Here' is finally in the can. It's a great album. Are you happy with it? When you listen back to the album, do you always feel you could improve on it?

I don't listen back to it now. It's done and has been paid for. The songs are the best that we could have got them to with our budget and the magic in the room when we were recording them. A bit like W. B. Yeats' automatic writing. It was a dream come true to have Steve Wickham, Vyv Long and Helen Turner, Greg Calbi and Terry Edwards work on our songs. I hope we have transcended our influences.

For a debut album, 'Friendlier Up Here' sounds quite accomplished and self-assured. Do you think this comes from the fact that you have been playing many of the songs on it in a live context for the last couple of years?

Songwriting is like carpentry - you have to keep at it to learn the craft. It's all in the details as Aidan Walsh says. Some of the songs are old but some are new and haven't been played live yet. You have to keep the freshness of the first time you sing the song and the tightness of practicing the song and later playing the song live. If it sounds accomplished and self-assured thanks, that is the complete opposite of what I am.

How was it working with Karl Odlum? He seems to be an extremely in-demand producer on the Irish recording scene these days.
Karl has been a good friend to me for the past seven years. He keeps on getting better and better at what he does. He's the Joe Meek of Ireland but I taught him everything he knows!

The Aftermath are noted for being a hard-working band. How do you feel about touring? Do you genuinely enjoy being on the road or is it a necessary evil of being in a band?
I enjoy being on the road always - that's what bands are meant to do, along with write songs and record songs and promote songs. It's the perfect job but it has its downside too. If you're ill or someone has died close to you or (you're) skint after travelling three hours to a gig and no one is there and no money for chips or diesel. It can be bad but the show must go on and it's better than being on a building site in the pissing rain.

Though from an Irish background and now based in Mullingar/Longford area, you and your brother Mick grew up in Leeds. Do you think those formative years in the north of England influenced your music as the album has a distinctive 'English' feel to it. It recalls some of the great classic English bands like Oasis, The La's and Roxy Music.
Of course they do but while growing up in Longford I was obsessed with Bowie, The Kinks and The Beatles and found it hard to get their music in the shops in Drumlish. When I moved to Leeds at 15 I got into The Smiths and the Happy Mondays but I found myself missing home and got obsessed with The Pogues and The Waterboys and Planxty. So I always was looking at the other side of the pond when I was on the other. The Fall sound great on both (sides) but The Smiths sound better in Leeds than Drumlish.
When did you realise music was going to play such a huge part in your life? Were you and Mick writing music from an early age?

Elvis, Way Down. That was the job for me rather than be a JCB driver like my Father.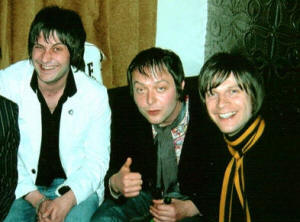 You are good friends with the Kaiser Chiefs from your time in Leeds. On a personal level, how have they dealt with the massive level success they achieved so quickly? Is that level of fame something you aspire to? Would you be comfortable with it?
Bring it on. They have dealt with it top. They are the first band to come out of Leeds that ARE from Leeds. I have learned an awful lot from them like being professional, working hard, not giving up and never slagging any other bands. Especially if you are going to see them again.

What are your views on the music industry in general, both in Ireland and the UK? It's a tough business to be involved in.

It is very similar to modeling and politics. In the UK it's t-shirts and haircuts, you are a slot machine and after 21 you' re over. In Ireland there is a sense of a songwriting community still, and a better middle ground financially, but Ireland gets small after two rounds of the country and you have to get out to Europe. The Hunter S. Thomson quote is so true.
Finally, 'Friendlier Up Here'. What does it mean?

It's from the song 'Northern Lingerie'. It is a safer zone for your listening pleasure, a big LSD reference too, also like that Echo & the Bunnymen album. You know the one.

Interview conducted by Ken Fallon
The Aftermath's debut album 'Friendlier Up Here' is released on 25 April, 2008 on Live Transmission records.
An extensive Irish tour follows, including an album launch at The Button Factory, Dublin on April 30th.
See www.myspace.com/theaftermathband for more details.