Cluas Gigs of the Fortnight
The best gigs across Ireland during the period 26 February - 11 March 2007
Gig of the fortnight is........ Arcade Fire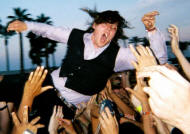 Where and When?


The Olympia, Dublin - 5th and 6th March

Why? The very hottest of hot tickets The Arcade Fire's first-ever headlining dates in Ireland sold out in some ridiculously short amount of time despite an exorbitant ticket price and in part thanks to the failure of anyone to put a limit on the number of tickets one could purchase for the gig.

But that's just me being bitter.

Montreal's finest will be here to launch the proper world tour for their new album Neon Bible which is released here this week. A far more sombre affair then Funeral gigs built around the songs on this album may not have the same sort of frantic energy which were the highlights of the shows that they played in support of the last record but fortunately songs like 'Windowsill', 'Intervention' and 'My Body Is A Cage' are good enough to not need people wearing motorcycle helmets getting bashed over the head during them to work live.


Best of the Rest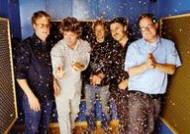 Who? The Hold Steady

Where and When?


TBMC, Dublin - 27th February

There's a curious thing that sometimes happens to North American indie-rock bands in the media on this side of the Atlantic when they release excellent albums which get overlooked here. As a way of making up for it just so long as their next album isn't a total disaster then it'll be very favourable reviewed even if it's not a patch on that earlier album (I'm looking at you Sufjan Stevens and Broken Social Scene, my aren't there lots of you?) which should have got them rave reviews.

This isn't quite the case with Minneapolis by way of Brooklyn band The Hold Steady. 2005's Separation Sunday was a brilliant slice of classic bar-room American rock with all sorts of nods towards mid-70's Springsteen ('cause tramps like us baby, and we like tramps') which managed to go pretty much unnoticed by the majority of music critics who then jumped all over it's follow up, Boys And Girls In America which continues the theme but slightly less successfully. Some would even argue that 2004's Almost Killed Me is the real jewel in their crown but I've not heard it and admitting that would throw my whole thesis out of whack so I'm calling those people cloth eared-buffoons and sticking to my guns.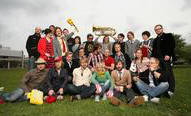 Who? I'm From Barcelona

Where and When?


The Village, Dublin - 2nd March


Roisin Dubh, Dublin - 3rd March

I'm not quite sure how many of his friends Emanuel Lundgun will be bringing with him to the Village but he had 28 of them making noise with him on the somewhat aptly titled Let me introduce my friends and he typically drags as many of them as he can along on tour with him.

The band's last Irish outing has been described as 'the funnest thing in the history of the world,' so they've got a lot to live up to this time.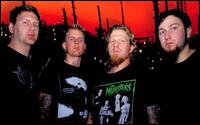 Who? Mastodon

Where and When?


Mandella Hall, Dublin - 2nd March


The Ambassador, Dublin - 3rd March

Mastodon released what is quite possibly the prog-metal album of the decade last year in the hilariously titled Blood Mountain and after having their asses kicked by The Points PA back in November in support of Tool they return to Ireland for their own gig.
Also this fortnight:
The Rapture

Tripod, Dublin - 3rd March

Black Rebel Motorcycle Club

The Village, Dublin - 2nd March

Duke special

Spirit Store, Dundalk - 26th February


Ulster Hall, Belfast - 27th February


Nerve Centre, Derry - 1st March


Spirit Store, Dundalk - 2nd March


Cyprus Avenue, Cork - 3rd March


Cyprus Avenue, Cork - 4th March


Roisin Dubh, Galway - 5th March


Dolan's, Limerick - 6th March


Garter Lane, Waterford - 7th March


Tripod, Dublin - 8th March


CLUAS 'Gigs of the Fortnight' is compiled and edited by the CLUAS listings editor, Ian Wright.


Check out previous CLUAS 'gigs of the fortnight' chosen since this section was started back in 2004.