Cluas Gigs of the Fortnight
The best gigs across Ireland during the period 11 to 24 December 2006...
Gig of the fortnight is........ Dinosaur Jr.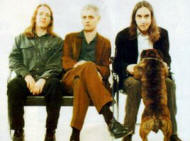 Where and When?


TBMC, Dublin - 11th December


The Warrick, Galway - 12th December

Why? Everyone cites The Pixies as a massive influence on Nirvana. And justifiably so as even Kurt Cobain feared that ?Nevermind? would be dismissed by critics as a cheap Pixies knock off. But equally important in shaping ?the sound that saved music? was Dinosaur Jr.. Formed in 1983 the Amherst MA band brought a sense of melody to US indie rock that had been somewhat lacking beforehand.

Now fully reunited for the first time since Lou Barlow left the group in 1989 Dinosaur Jr. are making their second trip to Ireland since Barlow's return and are currently planning to release a new album next year.

Support on both nights is from Limerick's Giveamanakick.


Also this fortnight:
Joan as Policewoman

Cyprus Avenue, Cork - 12th December

Si Schroeder

Whelan's, Dublin - 14th December

NeoSupervital

Whelan's, Dublin - 19th December

The Immediate

Whelan's, Dublin - 16th December (All ages show at 14:00)


Whelan's, Dublin - 16th December (Headline evening show)


McHugh's Bar, Drogheda - 17th December


CLUAS 'Gigs of the Fortnight' is compiled and edited by the CLUAS listings editor, Ian Wright.


Check out previous CLUAS 'gigs of the fortnight' chosen since this section was started back in 2004.