Cluas Gigs of the Fortnight
The best gigs across Ireland during the period 7 - 20 November 2005

Check out the previous 'gigs of the fortnight' (which covers the period 24 October to 06 November 2005 inclusive)
Gig of the fortnight is........ The National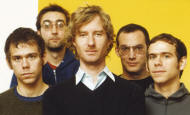 Where and When?


Whelan's, Dublin - 19th November
Why? As we draw towards December one thing is inevitable, there'll be a year end list in every single music magazine. And you can name most of the favourites to top the polls already, Arcade Fire, Bloc Party, Kaiser Chiefs, Coldplay (for those with no taste) and Antony and the Johnsons will be featured on almost all of them.

However don't be shocked of you see ?Alligator? by The National cropping up on a few critics' lists. One of the best reviewed albums of the year it's slowly been winning the hearts and minds of music fans since it's release back in April.
Also this fortnight:
Sigur R?


Olympia, Dublin - 11th November
Bloc Party

Olympia, Dublin - 7th November
Franz Ferdinand

The Point, Dublin - 18th November;


Odyssey Arena, Belfast - 19th November
Elbow

Vicar Street, Dublin - 9th November
Four Tet

TBMC, Dublin - 12th November;


The Belfast Empire, Belfast - 13th November;


Roisin Dubh, Galway - 14th November;


Club One, Cork; 15th November
King Creosote

Crawdaddy, Dublin - 13th November
Public Enemy

The Village, Dublin - 15th November

CLUAS 'Gigs of the Fortnight' is compiled and edited by the CLUAS listings editor, Ian Wright.