This article was first published on CLUAS in June 2006
Beijing Beat: Banjo Breakthrough
Abigail Washburn's Banjo strikes a local chord...
American hillbilly banjo playing songstress Abigail Washburn started out singing in Chinese. Now an established star in the US, she's playing Tibet in November.
---
Mark Godfrey, a CLUAS writer since 2002, is now based in China from where he files the 'Beijing Beat' column

Listening to old timers warbling withering librettos in tumble-down Peking opera houses seems like an illogical start to an American recording career. But acclaimed American banjo player and singer-songwriter, Abigail Washburn, from the state of Illinois, spoke Chinese before she learned to play the banjo. And when the star returns to her old haunts in the autumn it will be with a new album of Chinese and English songs under her belt. She'll also be scaling new heights, literally. The American Centre for Educational Exchange is taking the Illinois native and her band to play in Tibet this November.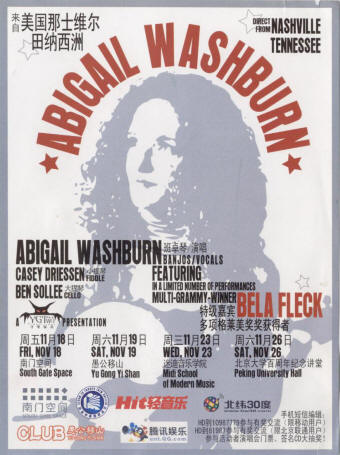 "So much of Peking opera is about the emoting," says Washburn, who started studying Chinese in 1996 after visiting China following her freshman year in college in Colorado. In her early 20s, Washburn studied Chinese - and Chinese opera - in the southwesterly city of Chengdu. "China was a more difficult place, so hard to travel in then." But she decided she'd study Chinese, a difficult language to most non-natives, to help her understand local operas - and eventually write her own songs in Chinese. "There's a very loose melody," says Washburn. "But that's influenced how I approach my music."

Ironically, it was her immersion in Chinese culture that inspired Washburn to reconnect with the roots of American music. After translating "Winter's Come and Gone," a Gillian Welch song, into Chinese, she quickly composed a handful of songs in Mandarin for a demo CD, "Song of the Traveling Daughter." The CD included collaborations with local folk musician Jing Li Jurca on "Min Tu De Gao Yang (The Lost Lamb)," a haunting, mournful ballad. "It was really her time in China that lead her down the path that led to her discovery of traditional American music," explains Jon Campbell, who organized Washburn's tour in China this spring. "By seeing the depth and breadth of Chinese culture, she was inspired to look into her own."

When she came back to China on tour earlier this year - her second and most publicized since returning to the US in 2001 - Washburn had established herself as a formidable presence on America's folk scene and on Nettwerk Records, home to, among others, folk rock star Sarah McLaughlin. When she climbed on stage for the first show at the Get Lucky bar in Beijing Washburn was flanked by other known names like Casey Driessen on fiddle, Tyler Grant on guitar and, playing bass, Amanda Kowalski. Driessen has worked with American alternative country legend Steve Earle. But even better known was the other vocalist on stage, Grammy winning banjo player Bela Fleck.

The post-show jams between her group and local Kazak folk outfits Iz and Hanggai showed Washburn at her experimental best. "I have had a lot of people commend me on that element of the shows. It was something I did on the November 2004 tour, but never in front of audiences." After the tour, Abigail went south to study folk singing with new friends from Xinan Shifan Xueyuan and the Shanghai Opera. The new sounds she honed there may appear on a Nettwerk release Washburn has been recording with Uncle Earl, the all-girl string band she also performs with (an album that is being produced by John Paul Jones, bassist in 1970s rock giants Led Zeppelin). A returen trip in 2006 was soon on the cards: "Even before she stepped off the plane this past November", explained Campbell, "we were talking about the next time. Ever since leaving China in 2001 Abigail has been committed to retaining her links to China. To her, development of a Chinese audience is just as important as any other audience."
Spring 2006: Abigail returns to China...
A mix of expats and locals turned out to sold-out shows at the three clubs in Beijing visited by Washburn. "Club shows are an important thing for Abigail who tours similar and larger venues in the States", says Campbell, "but I also wondered when Bela Fleck last played a place so small."

Packed houses at the South Gate Space and a capacity 500-people crowd at Yu gong yi shan was better only by a sell-out at Peking University's 2,000-seat theatre. After initially talking with the Forbidden City Concert Hall, Campbell ended up booking Peking University, known locally as Beida. "The audience, other than simply filling up the theatre, still something that blows my mind to this day, were so warm and obviously very intensely interested in the music," says Washburn. "It was obvious when Bela Fleck performed his solo that it was something beyond a linguistic link that got them so interested. At the break, we couldn't sell CDs fast enough, and we didn't have anywhere close to enough."

Abigail Washburn and her banjo will be back later this year if her promoter Campbell has his way. "The show at Beida really opened my eyes to a whole new level at which I could operate and for which Abigail's show is best suited... it's nice to pack clubs (frequented by foreigners) like Yu gong, but to play for an audience composed mainly of locals - students on their turf, at that - is another thing altogether."

Student ticket prices were kept low to ensure that locals, often less able to afford transport and tickets to a downtown concert, had an affordable opportunity to see something they otherwise couldn't have afforded or heard of. Heavy promotion by Chinese media ensured that non-students also came to the university venue.

Her appearance at Peking University and the extended media coverage that generated will make Washburn's upcoming tour, including her stop in Tibet, even bigger and better.