Film Review: Training Day
A powerful movie about the other side of the American Dream
It's day one, training day for greenback cop, Jake Hoyt (little Ethan Hawke). Here to breaking him in is unconventional cop Alonzo Harris (a very big Denzel Washington). The boy's turf are the gang neighbourhoods of L.A. and as the day unfolds it's no ordinary day for either of these guys.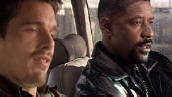 This film is all about Hawke and Washington. Two actors on the top of their game: Washington all powerful and dominating, Hawke the perfect foil, timid, and weak but learning fast and hard. We are brought on a tension filled ride around the L.A., familiar to viewers of 'Boys in the Hood' and immortalised in Gangsta Rap (in fact Dr Dre, Snoop Doggy Dog and Macy Gray all make cameos).
No ordinary cop flick, Training Day pulls no punches and develops into a powerful, memorable and disturbing movie. A film that follows proudly in the footsteps of Boyz in the Hood, American History X and Traffic as a refreshing alternative take on the American dream.
Kevin Smith