Film Review: The Claim
Weave your way through some magical musical mayhem...
"If you turn your back on someone, when you look back you realise half your life is gone."
(Kinski as Elena in The Claim)
To spark an emotion or hush you into silence. To invoke a teary stream or widen your eyes to beauty. To leave you feeling shaken and fulfilled by cinema, by a story, by a moment of clarity when it all comes together. The Claim, Michael Winterbottom's latest marriage of truth, image and music is sure to please lovers of the artistic wonderland that is Film when it's done right.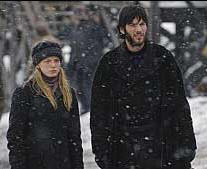 The coming together of a fine group of actors, The Claim presents a story of family, love, greed, revenge and redemption. The cinematography is awesome; painful scenes come in and out of focus, bending the rules of what you can see and how you should see it. This film knows how to let the audience breathe, leading us off up into the snow capped mountains and magical vistas which stretch out before us, giving us a broad understanding of our surroundings. The firework scene (which evidently Winterbottom has a thing for) shows yet again this directors incredible ability to capture something of genuine emotion in an extra's face, a flicker which lasts for only a second, a very real sparkle in some nameless eyes. Intimacy is given in extreme close up, mushed faces, near enough to see pores, move slightly into focus only to leave again in the rhythms, taking from our view the beads of sweat and the skin pressed hard and wrinkling.
The powerful Peter Mullan (who played Joe in Ken Loach's 'My Name is Joe') takes on the role of Daniel Dillon, the king of Kingdom Come, a small town and product of the evils of the gold rush circa 1840. Dillon has a secret past, a wife and child who have haunted his dreams and now have come to haunt his reality. 20 years previous Dillon sold them for gold, making a decision that would make him his fortune but cost him his conscience. Their return offers him a chance to right his wrong and to realise that not everyone has a price. Kinski is mesmerising as the long-suffering polish wife Elena, who is stricken with the then fatal TB. The charming and cunning Madam lover of Dillon, who is cast aside by all men in the movie, is played by Milla Jovovich and American Beauty's Wes Bentley plays the dashing but surprisingly unscrupulous railroad surveyor, Dalglish, who steals Dillon's daughters heart. This touching role is mastered by Sarah Polley, whose pale complexion is complemented once more by the white scenery, like her glowing moments in Atom Egoyan's The Sweet Hereafter. She is exceptional as the fresh faced Hope – the lost baby, the love interest, the wide-eyed innocent and the ultimate victim in a world of harsh deals and retributions. There is also a stirring short appearance by an upcoming Dublin talent, Barry Ward, who plays the gold struck young and wayward Mullan, the man who sells his loved ones for a gold in a moment of drunken frailty. The flashback scene is fantastic and the brevity of Ward's performance is no indication of its worth.
The strongest feature of this film is its sound design, transporting you to the locations and surrounding you with fire, wind and snow storms. A consuming and powerful soundscape, which I duly noted because I was watching the movie with a Sound editor who always draws my attention to the subtle wonders of these effects.
The snow is as much a character in this film as anyone else. It covers everything with a clean beauty that belies its true cold nature, sweeping over the lands dark secrets. This film has a real palpable texture, like an imaginary fibre made up of skin and light and air. The extreme close ups combined with the constantly recurring soft focus give you the feeling of being too close to the subject, clouding your eyes and ears with an overbearing sense of the scene. In contrast, at other times we are so far away, looking on at wideshots as outsiders denied an emotional input. I swing wildly from being moved to being numbed.
The score as always Mr. Nyman is triumphant, enchanting, all encompassing and well... almost identical to Wonderland but I loved it then and now again! Though I must admit it is slightly too pervasive in Kingdom Come.

There, a small complaint of an otherwise engaging and inspiring movie worth embracing and experiencing. Truly visceral my friends! Mr Winterbottom, you've done it for me again!
Anna Keeling