Film Review: Sunshine State
John Sayles shines his vision on the Sunshine State they call Florida
In Sunshine State writer/director John Sayles introduces us to the various residents of two small towns on the Florida Coast that may finally have to give in to pressure from developers. While there are many different plot threads in the film much of the action centres on the characters played by Angela Bassett and Edie Falco. Desiree (Bassett) has returned to the area to meet with her estranged mother after a long absence. In direct contrast Marley (Falco) has remained behind to run the motel and restaurant owned by her blind father (Ralph Waite). As Desiree confronts her past the visit of a landscape architect (Timothy Hutton) to the area looks like it may provide Marley with an opportunity for escape.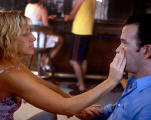 Bassett and Falco are both terrific but their roles are not allowed to overshadow the excellent cast of supporting characters who - despite very little screen time in some cases - are as interesting and well rounded as the nominal leads. These appearances range from a small role for Buffy's Marc Blucas as Marley's golf pro boyfriend to Bill Cobbs as the local doctor intent on making sure a way of life is not lost. While the film is billed as a drama it contains a great deal of humour including an hilarious appearance by Richard Edson as Marley's ex husband and the farcically hampered attempts of Gordon Clapp (a Sayles regular prior to his NYPD Blue commitments) to kill himself. In the course of its hefty two and a half hour running time there is not a superfluous storyline or character in the film. Even the (initially) inexplicable golf game that punctuates the action ultimately used to witty (and bittersweet) effect.
In his last two films (Lone Star and Limbo) Sayles provided his audience with two of the most quietly shocking endings in cinema. Fans of the director's work expecting this kind of an impact at the end of Sunshine State may well be disappointed but it is doubtful whether they will be see a film that contains better writing or acting again this year.
Ciara Cloak