Film Review: The Straight Story
Usually what comes to mind when you think of a David Lynch film are perversion, deformity, inversions of the American Dream or general surrealism. Not so the case with 'The Straight Story' which is a step in a completely different direction for Lynch. The only continuum is the contribution of Angelo Badalamenti, who once again scores the soundtrack. Here, the music is beautiful and haunting but never Twin Peaks creepy.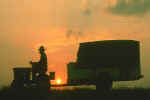 The film tells the story of 73 year-old Alvin Straight, who lives in Laurens, Iowa with his slightly mentally disabled daughter, Rose (Sissy Spacek). He gets news of his estranged brother's (Harry Dean Staunton) stroke and decides he must make peace with him before it it's too late. This all sounds very straightforward (no pun intended) until we learn that Lyle lives in a different state and Alvin's aging eyes prevent him from obtaining a driver's licence. Determined to make the trip, Alvin sets out on a lawn mower - with a trailer for his home - to make the long trip to Mount Zion, Wisconsin.
An septuagenarian traveling across America doesn't sound like the most exciting of plots but it is the way in which Lynch tackles this journey that makes the film so charming. It is easy to see the trip as a metaphor for life but for Alvin, played by the under-rated Richards Farnsworth, it is a spiritual, cyclical journey, which seems to give him the sense of completion his life has lacked. As he travels the highways between Iowa and Wisconsin, he encounters runaways, WW2 veterans and people who prove to him that the kindness of strangers is not necessarily a thing of the past.
The cinematography and stunning aerial shots of cornfields and sunsets are breath-taking and these, interspersed with Alvin's' encounters along the road, add to the warmth of the story. Die-hard Lynch fans expecting Blue Velvet/Twin Peaks fodder will be disappointed but it is a heart-warming film, which is visually stunning and goes to show that a good story can beat special effects and vacuous action-packed blockbusters any day.
Sinead Gleeson