Film Review: Secretary
Ever felt strapped to your office desk?
"A comedy for anyone who's ever been tied up at work" blasts the promotional poster outside the cinema. Having been a campaigner for sadomasochism in the workplace for years, this reviewer decided to wander on in. What we get is an oddly compelling black comedy documenting the fledgling relationship between Lee Holloway (Maggie Gyllenhaal) and her new boss Edward Grey (James Spader), a self-loathing, control freak lawyer.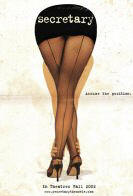 We first meet Lee when she performs casual office duties such as collecting faxes, making coffee and stapling documents together. These menial duties are made more demanding when the secretary in question has her arms suspended in some form of S & M crucifixion manacle, but nevertheless she executes the task with aplomb and with no small degree of satisfaction, one feels. From here the film skips back six months, when Lee has been released from a Care Institution so that she can attend her sibling's wedding. Here she is reunited with her obsessive mother, aggressively drunken father and her on/off mentally defective boyfriend Peter (Jeremy Davies).

Lee has masochistic tendencies, namely she likes to cut herself. Her body is littered with self-inflicted scars and band-aids, forcing her unbearably supportive mother to hide all the cutting implements in the household. To escape the banality of life at home Lee takes up a secretarial job with the edgy, recently separated lawyer Grey. The lawyer is a disciplinarian, and punishes Lee's typing errors by giving her a good old spanking over his desk. While Grey seems unable to accept his own actions on a moral level, his secretary is enthralled by the impromptu cheek chastening. An unhealthy obsession begins in Lee's mind, and she even masturbates in the toilets using her boss? red correction marks on typed text as a visual aid.

Grey confronts Lee about cutting herself in one terrifying seduction scene, convincing her that she will "never ever" cut herself again. The secretary is so taken with the idea of it all that she voluntarily dumps her self-mutilation kit into a river. As one chapter in the troubled girl's life closes, a more sinister one begins. Peter's tentative proposal of marriage falls on deaf ears as Lee is determined to get her man, whatever the emotional or physical cost. "We can't do this 24 hours a day, 7 days a week", Grey warns his dangerously affected employee.

Director Stephen Shainberg has been careful not to let the story run away from him altogether, although there are several moments when the term artwank is pictorially not too far off the mark. The seriousness of the subject matter is offset by some delightfully surreal sequences, grotesque office etiquette and more scenes of genital husbandry.

Several sub-plots develop along the way, with some just too far off the mark and simply inconsistent with the main story. Towards the end of the movie, Lee becomes a minor celebrity in her locality due to her desperate attempts to win the affections of her homme fetale. While an amusing scene, it is merely fluff and completely at odds with the story being told in the preceding 70 minutes. Still, Shainberg must be praised for this oddity of a film. He has even found the time to pay homage to the swinging ?vacant? sign outside the Bates Motel in Psycho, and there are touches of The Graduate in some of Lee's pool scenes. The cast is thoroughly convincing, with James Spader once again giving a master class in pervy method acting (see "Crash" or "Sex, Lies and Videotape"), but it is Maggie Gyllenhaal who acts everyone else off the screen here.

Barely noticed in Spike Jonze's 'Adaptation', and cast opposite her real life brother in Donnie Darko, Gyllenhaal has come from relatively nowhere to steal the show here. Her portrayal of the vulnerable misfit at the beginning of the film is just as impressive as the obsessive lover at the end, and she doesn't look half bad wearing a saddle and stirrup either! This movie could well prove to be her passage to riches, and good luck to her.

'Secretary' would not be an ideal choice for entertaining your granny on a Sunday afternoon, although she would find some scenes titillating. Those employed in the office environment may think twice also, which would be a shame because this film is a bizarre, brave and brutally honest story of the search for love and the perfect partner. Given the emotional disparities of the film's protagonists, the theme of the story could be that there is someone out there for everyone, so in essence what we have here is a blackly comical love story.

While this film is not likely to finish in Dublin's top ten grossing movies of all time, it is nonetheless an oddly enjoyable foray into the mind of the sexually obsessed. It will do the careers of Spader and Gyllenhaal no damage at all, and provide S&M lovers worldwide with a much-needed slap in the arse.

Rating: 8 out of 10

Brendan Bradley