Film Review: Rabbit Proof Fence
A new Australian film and it sure ain't no 'Crocodile Dundee'...
It's always the same ? you sit at home and wait for a Kenneth Branagh film to come along (letting Mary Shelley's Frankenstein on RTE fill in the gaps) and then two - Harry Potter II and Rabbit Proof Fence - come along at once.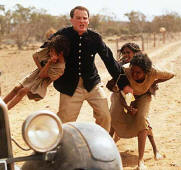 Sir Branagh is almost certainly the only common factor between the fantastical world of Harry Potter and this incredible true story of resistance against government-sanctioned racism in 1930's Australia (then again both films are also centred around the misadventures of 3 children? damn). In the grand scheme of things, Rabbit Proof Fence exposes the injustice imposed, by law, upon Aborigines during an ugly - and depressingly recent - period of Australian history.
In an effort to stem the mixing of aborigines with whites, the Australian government attempted to remove all ?half caste? children (half aborigine, half white) from their families and ?integrate? them into white communities so that, in generations to come, their bloodline would be watered down to a mostly white ethnicity. The deplorable reality of this idea is explored via the true story of three ?half caste? girls (played by Everlyn Sampi, Tianna Sansbury and Laura Monaghan), who are torn from their families and taken hundreds of miles away to be re-educated in a ?half caste? boarding house.
The story, without trying to patronise the audience or become over-sentimental in its telling, follows the girls as they escape and attempt to return to their grieving mothers, fleeing the Chief Protector of Aborigines at the time, A.O. Neville (played superbly by Branagh). It is a tribute to the director Philip Noyce that the balance between a simple and enthralling narrative, and an honest account of the injustices suffered by the aborigines is struck so well. That all of this is put in context with recent Australian history and based on real events adds another layer to the film's appeal.
Rabbit Proof Fence is as far-flung from the recent cinema fluff of xXx and Harry Potter as is possible. It is, as pretentious and clich? as it sounds, an important film, and one which deserves much credit for succeeding on so many levels.
If you're a slow learner, or just one of those people who skip to the end of the review to get the last word on everything, the previous 350 words can be summed up in 3: ?see this film?.
Brendan Morrissey

Check out an alternate review of Rabbit-Proof Fence.


Click here a review of The Bone Collector, another film directed by Philip Noyce.