Film Review: The Pledge
Jack's back and is pledging his time...
Gerry is a good cop/not so good family man with a lifetimes' worth of honed instincts not unlike your average Dirty Harry. Life is slowing down for Gerry as retirement looms but the particularly grisly murder & sexual assault of a young girl means he's not willing to go. A pledge to the victims mother to find the killer changes his life forever...i won't give any more of the plot away...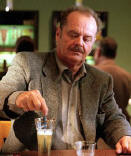 For those who haven't tired of ol' mean features yet, Jack Nicholson gives an outstanding performance as the downtrodden Gerry. An array of actors make brief & not so brief appearances - Mickey Rourke, Harry Dean Staunton, Helen Mirren, Benicio del Toro (unrecognisable as an imbecilic Native American) & Robin Wright Penn to name a few.
So what's so good about this film? Well it keeps you guessing & hooked for the entire ride and more than that, long after its over it keeps you pondering the what-ifs of a dozen different scenarios played out in your head. This post-prandial dissection & digestion may be in part due to the evident lack of closure - not always a good thing in a film, but apt and fitting in this one. It provides a dose of reality with credible, sensitively drawn character portraits against a background of the ageless minutiae of small town American life. Sean Penn gets a clap on the back from me for being interesting and 'independent'.
Catch it.
janeymary