Film Review: Ocean's 11
Does this remake sink to the floor of the ocean?
Fraudster Danny Ocean is just out of prison, and he is on a mission to pull off one last major payday. To do the heist, he needs a crew, so he gathers together eleven very different crooks, and gets down to business.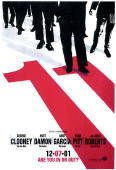 Starring George Clooney and directed by Oscar winning Stephen Soderbergh, with many of Hollywood's biggest stars, one would expect a very cool and entertaining piece of cinema. What we get is a major disappointment. Clooney is uncool., Pitt is unpleasant, Roberts cold, and the rest hardly get a look in. The real acting is left up to old timers Elliot Gould and Carl Reiner. Even the much hyped soundtrack is a let down, with Belfast Dj David Holmes unearthing a Elvis classic and then, having it used out of context, wastes its potential impact.
Ocean's Eleven is painfully clever and there's plenty of eye-candy for the ladies, but, to paraphrase Elvis, a little less conversation and a bit more humour, would have made this film a lot better. Underwhelming.
Kevin Smith

Click here for a more positive assessment of Ocean's Eleven