Film Review: Minority Report
Spielberg sees the future. Again.
As with A.I. Steven Spielberg again adapts a short story (this time by Philip K. Dick) to create a film set in a fairly grim future and which stands in complete contrast to works such as E.T. and Close Encounters of the Third Kind. While Minority Report is not the flawed masterpiece that he created with A.I. it is nonetheless an impressive sci-fi themed thriller with a pleasingly complex plot and which is loaded with black humour.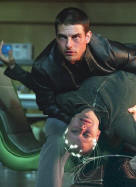 Tom Cruise plays John Anderton the commander of an experimental Precrime unit in Washington DC. With the help of mutated humans (?precogs?) murders can now be foreseen and the perpetrator arrested before any crime is committed. As Precrime is poised to go national a Justice Department official (Colin Farrell) arrives to ?observe? their department in action (or possibly poach Anderton's job). In addition to his work problems, a family tragedy and a penchant for drugs Anderton then has to contend with the fact he is identified as the perpetrator of the next crime that is predicted. He goes on the run and takes the most powerful precog, Agatha (Samantha Morton), with him.

Comparisons of Minority Report with Blade Runner are inevitable and the grim urban sprawl and ultra commercial future (satire or a fiendish manner in which to cram in even more product placement?) that Spielberg depicts makes it difficult not to recall the Ridley Scott classic. What the film lacks in originality it makes up for with some brilliant set pieces (the sequence in the shopping mall is a standout), excellent performances from both Cruise and Farrell (who overcomes the fact that he is ridiculously young to be playing a senior Justice Department official) and an entertaining array of some truly grotesque supporting characters (stand up Peter Stormare).
While fans of mystery thrillers may feel that the eventual culprit may as well have ?I did it!? stamped on their forehead the motives and mechanics of the crime are original enough to keep viewer engrossed until the end.
Ciara Cloak

Click here for another CLUAS review of 'Minority Report'