Film Review: Lucky Break
Yes, it's another jailbreak film but don't write it off just yet...
Not many man-woman love stories begin in prison. Not many upper class English dames would work as a correctional officer in one of Britain's toughest and bleakest lock ups. Not many such ladies would star as the love interest and pretty female alongside a cast of hardened criminals in a musical written by a dotty governor. No such women would fall for their bank-robber leading man.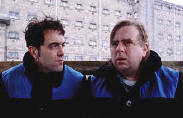 But that's exactly what happens to the prison correction officer played by pretty Olivia Williams in Lucky Break, the Films Four production starring Irishman James Nesbitt in the lead role of Jimmy Hands, bungling bank robber. The film was written by fellow Irish man Ronan Bennett and is directed by Peter Cattaneo, the movie man responsible for worldwide comic hit The Full Monty. This is a solid, funny comedy, full of the black, ironic humour enjoyed by viewers of the British and Irish isles.
There's some cracking performances here. Christopher Plummer is wonderfully off kilter as the old-boy prison governor who pens a soppy musical in reverence of British naval hero Admiral Nelson. Lennie James plays Nesbitt's sidekick in robbery and on stage as Hardie, who kisses the dying Nelson. Wolf whistles all around the mess hall at that one. Such gags might be time-proven but quality acting ensures it's fresh as new bed linen here.
The storyline is built on the well-tested cinematic ground: a prison escape. This time the jail breakers use the staging of the governor's swan song musical as their get-away guise. The plot is decently crafted but three great players make something special of this film. Bill Nighy cuts a perfect suit as Roger, Cambridge graduate and fraudster (correction, 'inventive accountant'). He's the posh guy who shares his cell with arsonist Darren, well played by newcomer Raymond Waring. It's a hilariously unlikely pair but Roger acts as a father figure to school burner par excellence Darren and the teaming offers brilliant scope for the development of Roger's deliciously complex and cleverly off-beat character.
As the boys sharpen up their choreography and perfect their pitches, Frank Harper comes in very effectively as the hardman psycho, an 'evil bastard' who's got professional issues with Jimmy which are never elaborated on. A touch of genius however comes in the characterisation by Timothy Spall of Cliff, the fat, "harmless" bloke who's in the locker for something he wasn't guilty of and who just wants to do his time and go home to see his family. Timothy Spall's face is getting more and more wide-screen attention (he was unarguably accomplished in Intimacy) and judging by his role here as Cliff, Jimmy's cell-mate, we can hope he continues the form. Spall plays his man with a gentle innocence that hardens his bullying by hard man chief screw, Mr Perry, into an emotional alternative to the film's laughs. It's questionable however as to whether there's room for the bitter taste of melancholy which his downfall brings to the film. This writer favours the sweet-souring of the film it allows but there's something lazy about the lines scripted for Jimmy's reaction.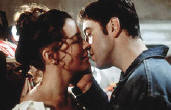 Another man who's terribly good at creating a character who's instantly recognisable, totally believable and under-your-skin-hilarious is comedian Julian Barratt. He plays Paul, brought in by the governor as a seemingly disastrous choice to direct the musical. Totally out of his depth among the hard men, geeky Paul is as pale as the pages of the drama school books he'd be more at home with. His lines with the cast and the unlikely twists in the development of his character are some of the strongest comic foundations of the film. But it's the brilliant mannerisms which Barratt brings to the character which offer near ? surreal comedic moments.
The film is perfectly paced, with Cattaneo allowing the film to tell its story and let the romance develop. Never a man for flights of fancy, Cattaneo and photographer Alwin Kuchler are comfortably at home among the bleak grey and blues of Wandsworth prison. A tinge of realism affects the overall work and makes the acting and the comedy even more assuredly palatable. This is a prison escape caper which should help to re-assure the Hollywooders that Anglo-Irish comedy still works best.
Mark Godfrey