Film Review: Kevin and Perry Go Large
Stephen on the transition to the big screen of Enfield's 'Kevin'
I've always thought there was something horribly shallow about the way film and pop stars pop up on just about every TV programme on the schedules to promote their new release. It may not demean the likes of Steps to sit in a gaudy studio, waiting to get in the plug, while being plagued with inane questions from someone like Dale Winton or - God forbid - Jeremy Spakes, but it's a pity to see a talented and intelligent man like Harry Enfield do the promotional rounds.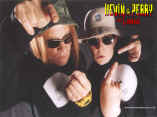 The Sussex comedian is the brains (bit of an oxymoron here) behind 'Kevin and Perry Go Large', a delightful romp featuring one of his most popular characters. You're probably already familiar with the plot thanks to Enfield's innumerous TV appearances. However, in case you don't have a telly (er, but do have internet access) here's the pitch: the eponymous heroes Kevin (Enfield) and Perry (Kathy Burke) are two sulky teenage friends, frustrated with their boring and sexually unfulfilled lives. The duo think they are incredibly talented DJs, and an ad in a porn mag inspires them to head to Ibiza, with the twin goals of losing their virginity and becoming allstar mixmasters.
Naturally, Kevin's mum and dad accompany the pair on holiday, and their nocturnal antics cause much embarrassment for the lads as they strive to impress the girls, Candice and Gemma (Laura Fraser and Tabitha Wady). Rhys Ifans is top DJ 'Eye Ball' Paul (he drinks vodka through his eyeball - don't ask) who takes Kevin and Perry under his wing in a sadistic kind of way. So, will the boys' epic house choon 'All I Want To Do Is Do It Big Girl' make it into Eye Ball Paul's set, thus launching them into stardom and mucho shagging?
The club scenes were actually filmed in Amnesia and Pasha during the summer of 1999, which must have been a bit surreal for the punters. There are also cameos from Enfield's comedy partner and ex-flatmate Paul Whitehouse and from Steve McFadden (Phil in EastEnders). Whitehouse plays a bouncer with a stylishly cruel way of refusing ugly girls entry to the club: "Sorry, no monsters". Other characters that hit the spot include a squad of robotic, mullet-and-denim German clubbers, who dance with synchronised Aryan efficiency.
There are gags aplenty featuring floating poos, oozing zits and inopportune stiffies, but strangely enough they are not enough to keep the film running along smoothly. For the most part, 'Kevin and Perry Go Large' is a procession of hit-and-miss gags separated by lengthy spells of dullness. Some of the gags are fantastic (the parental sex issue is great), but on the whole this movie joins the ranks of dud flicks adapted from small screen success. I think the 'Dirty Old Buggers' or 'Tim Nice But Dim' would have stood better chances of supporting a feature length production, but they too would have floundered on the pesky requirements of plot and characterisation.
However, I guarantee that if you follow this handy three point guide, you will enjoy the roguish charms of Kevin and Perry.
1. Leave your brain at the door. Exchange for popcorn.
2. Know what to expect. Don't think you're going to experience a cutting expos? of modern teenage angst and alienation, against a backdrop of youth culture and substance abuse. You are about to experience jokes about turds and boners.
3. Don't bring anyone you're trying to impress with your cultured taste in the arts. This film is not first date material (unless they're thirteen). Similarly, don't let your grandmother or parish priest see this movie if you have two weeks in the Balearics booked for August.
Now you too are ready to go large.
Stephen Murphy